Wael Hamadeh (54) has been an artist since early childhood. He uses any material he stumbles upon for his artwork, in which Lebanese folklore, nature and history always play a pivotal role. "I am just a simple guy from Baakline, a village in the Chouf mountains of Lebanon."

By Arthur Blok 
"Art arises when the secret vision of the artist and the manifestation of nature agree to find new shapes", the famous poet and artist Kahlil Gibran (1883-1931) once wrote. This distinguished quote beautifully applies to the work of Wael Hamadeh.

The modern-day artist, of Lebanese-Druze descent, has a rich family history dating back to the 15th century. No surprise that his love for his Lebanese roots is present in all aspects of his work.

The glory his country once represented in the Levant is like a red thread in all his artwork: photos, sculptures and extraordinary paintings, often with a layered message. Through his work, the spirit of the Lebanese is evident.

Creativity and art were poured in with the papal spoon by his father, a sculpturer:  "I used to help and assist him. By doing so, I developed my skills over the years with woodwork and craft. It triggered my artistic side. At a young age, in the early nineties, I became a photographer and also started painting."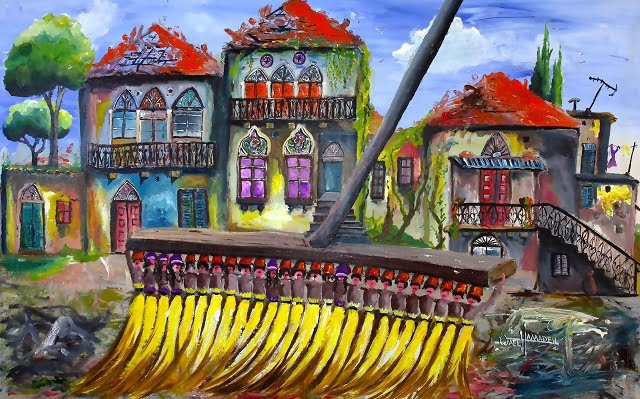 Lebanon, plays a dominant role in his artistic expression. It often turns around the beauty of the Chouf mountain range where he grew up. Rough nature, mountain slopes with pine- and olive trees, and the other magical features of the wildlife are used in his colourful works.

"I am part of my environment. Growing up, folklore, habits, and traditions surrounded me. My grandfather used to have olive farms and refineries. My father took over the business, but with an artistic twist. That is what influences me up until the present day", he said.

Hamadeh was part of the National Lebanese Folklore Dance Team for twelve years. He visited many countries as part of that national formation. Hamadeh: "I represented Lebanon before international events such as sports competitions. I also helped build the stage for those performances, recreating traditional villages from recycled materials."

In the mid-nineties, he came to Dubai initially as a flight attendant for Emirates, using every spare moment to work on his art. "That's what I love. The more you produce, the more your passion grows."

It is a challenging task to classify his work. The fusion between Mediterranean culture, traditions and folklore are strongly influenced by oriental surrealism. Hamadeh: "Always in a surrealistic way, it is modern contemporary art." 

Supporting yourself as an artist and maintaining a high-quality life through finances generated from your artwork is not easy in 2023. It never was. Despite that challenge, Hamadeh succeeded. He focused solely on his artwork when the world stopped in early 2020 with the Covid pandemic.

He must combine his fine artwork with commercial and interior art to survive. He has a broad portfolio of clients, such as Intel, Porsche, Chivas Regal, Nestle, Red Bull, and Nissan, to name a few.

Hamadeh: "Such work is always challenging because I have a certain standard of quality that I cannot let go of. That is not always easy. I have to be honest; once a decoration is successfully done, it also gives me a sense of pride."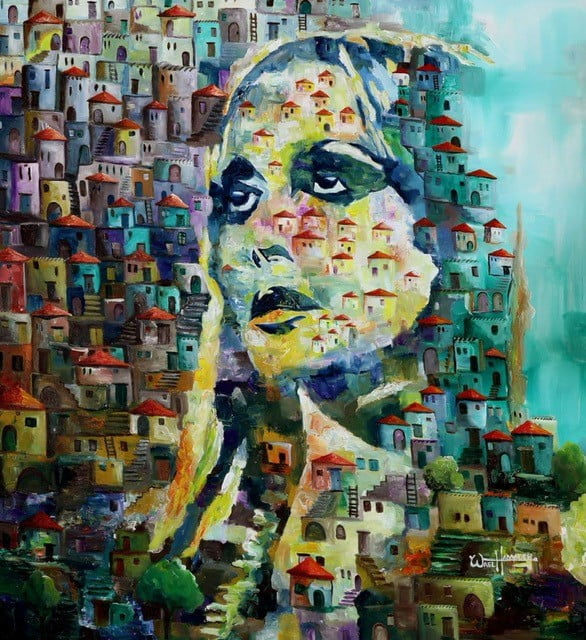 It is challenging to compare Hamadeh with other artists. His style is unique. "I like to compare myself to the artist who put much effort into visualising their work. I copy from my mind, from nothing else. A painting is a part of my mind, so they say: the deeper I go, the more I discover myself.

His career highlights include five international photography awards and various painting awards. "It gives you confidence that your work is on the right track. The last one was from the United Nations, the environmental award for a Watered Roots painting (painting behind Hamadeh in the lead picture above this article). These things boost my confidence and motivation to improve myself further.

Hamadeh often exhibits his work. Currently, part of his work can be seen as part of a broader exhibition at Artpoint Gallery in Dubai. After Ramadan, he will have a solo exhibition in the same gallery in Dubai; he is currently exploring possibilities to have a large exhibition in Lebanon in the summer.

Hamadeh's online art gallery can be found here. His work is also shown on his Facebook and Instagram pages.