The world is changed by your example, not by your opinion. With this quotation from Paulo Coelho, a Brazilian lyricist and novelist, British-Syrian author Samie Al-Achrafi introduces a chapter on conscious leadership in his bestselling book #Time4Humanity. A rather unusual but must-read book for every individual who wants more out of life but does not necessarily know where to begin.

By Arthur Blok
Who does not want to change things for themselves for the better but finds it difficult? Self-improvement starts with looking in the mirror. A daily routine that most of us associate looking with narcissism or feelings of inadequacy. There is much more to it. To improve yourself and serve others, you must always look critically at yourself.

Samie Al-Achrafi calls this concept in his book #Time4Humanity conscious leadership. #Time4Humanity is much more than just an excellent read; it is a unique book with many, often hidden, layers.

It is about all sorts of cultures in different places, values, the human ego, and the premises of being conscious of your actions and their consequences. These are crucial matters to consider when one wants to reach conscious leadership.

"It all started as a hashtag to bring the concept of humanity to the hearts and minds of leaders," the British-Syrian author explained from a cozy coffee shop in Dubai. One thing is clear, Al-Achrafi is full of energy and well prepared. If he speaks, you'd better listen. Otherwise, you might miss something important.

The book is full of straightforward feel-good advice, concepts, ideas, and tips. For example, it is redefining success. What is success anno 2022? Money, power, status. Is that really what life is about? We have come to accept these cultural and societal norms, but that does not mean it is correct.

"It is time for us to re-connect. It was tempting to present a model or framework to be more human, but I resisted. This is more a book for humanity to pause, reflect, and contemplate what to change if we are to contribute to creating the best world imaginable."

In his perspective, 'anybody' can be a leader: a kid at school looking after a classmate, the CEO of a multinational, someone elderly sharing their wisdom, and everyone in between. Al-Achrafi: "Be aware that leadership is a verb, something you step into. We can be leaders, but that does not automatically mean we demonstrate leadership."

It is evident to anyone paying attention that there is dysfunction in the world that has been growing in the past decennia. The author calls it 'a realization that the way we are 'progressing' is no longer serving us.'

He does have a point; this process of decline is visible on all levels of our global society. Whether it is in our social engagement, how we organize our businesses, or how we trade. There are numerous examples in this perspective. The most recent examples are the problems caused by the Covid-pandemic and the war in Ukraine with the worldwide supply chain.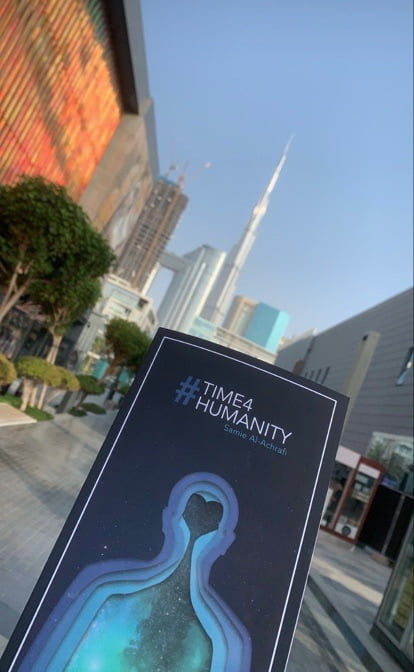 #Time4Humanity
The bestselling book is divided into three parts: The Unconscious Past, The Awakening Present, and The Awakened Future. It has to be said that reading the table of contents gives the reader some expectations – that leadership and self-development are inextricably linked. And what it delivers is a blueprint for a better state of being.

That is unique.

Al-Achrafi: "You can know every model on earth, but if you don't do your self-work in the end, nothing will shift. That is why my book calls on people to change themselves first. It is the only way forward."

The author is not afraid of making himself vulnerable to his readers. In a chapter about 'Lessons from the East,'? Him being bullied as a youngster at school plays a vital role. An audacious addition indeed.

"Leaders go first. We all have a story, only with different actors. This book is not about victimhood but about how the challenges shaped me." That is the point he makes in the last part: The Awakened Future. The personal challenges in the past allowed him to set the proper examples for the readers today as Samie.

Every segment of the book catches the reader's attention, with some words of wisdom from the earth's greatest thinkers and philosophers followed by a broadly accepted definition as the basis to illustrate a sometimes hilarious or sad real-life example.

Good-to-follow examples make you think: how would I have behaved in a similar situation? While at the same time, an enjoyable way to understand the complex issues the book deals with.

In that perspective, #Time4Humanity is more of a guidebook to accelerate personal leadership and deal with the most awkward situations; one must read it to understand what that means.

Conscious Leadership
To introduce the concept of culture and cultural shifts, American author David Foster Wallace is cited: 'Culture is to humans what water is to fish. It is the water we swim in every day, a wink to Al-Achrafi's Consultancy Company, Marmalade Fish. A company where conscious leadership plays a central role. Annually five percent of its revenue is donated to charitable causes.

"Everybody is talking about culture. But what does it mean, and how does it influence us? We live and breathe through culture - it informs everything around us, even what is happening in this restaurant as we speak. To be successful as a leader, you need to be aware of all small things that matter."

To illustrate, he looks at Arab culture. Everyone knows that most Arabs do not eat pork, but is everyone aware that it is bad manners to point one's foot at an Arab during a conversation? Or to openly admire their possessions, as they may feel obliged to give them to you.

Al-Achrafi: "We talk about transformation and changing cultures, but we are not butterflies. We can take inspiration from nature, but as humans, we are on a journey to shed our layers and let more of our humanity shine through. Looking at the book's cover, you see a person surrounded by many layers, and the universe lies within.

Even the end of #Time4Humanity triggers more profound thoughts from the reader: 'There is no such thing as an ending, just a place where you leave the story. And it's your story now… You have no idea now what you will become.'

Al-Achrafi: "Do not try and control it. The human ego will always want to know 'where am I heading? By when?' It is outward-looking. The invitation is: turn the lens back onto yourself. How are you showing up in life?

The term conscious leadership is valid in all these perspectives. For example, in your local community or household." If you are at peace with yourself, you will likely be at ease in all your relationships: with your partner, your children, and at work. Name it. That should be your goal."

Al-Achrafi concludes with an example from his community in Dubai, armed with a pair of blue gloves and a garbage bag; he went out in the afternoon to collect cigarette buts, thrown-away facemasks, and other rubbish.

"As we walked, people passed by and gave many positive comments; my answer was: 'this is our community. Why not care for it.' A week later, I saw two 14-year-old girls doing the same. I said, 'girls, that is amazing.' Their answer 'we heard there was this old dude collecting garbage, so now it is our turn.' They looked after the community because someone else gave an excellent example without even witnessing it; how amazing is that?"

#Time4Humanity is a unique must-read page-turner that everyone who wants to improve should consider reading. It can be ordered via this link.  

In early July, the prequel was launched '9: Lessons from the Universe'.
Keep visiting The Levant News Instagram: @levantnews.

Samie Al-Achrafi's (@samiealachrafi) career spans six continents, working with governments and organizations worldwide to create high-performance cultures underpinned by values. He is currently based in Dubai, where he leads a global team of leadership coaches and facilitators at Marmalade Fish - the first and only certified B Corporation in the region. In 2019, he presented a TEDx talk on Why Business Needs Our Humanity, and the following year authored the bestselling guide to conscious leadership #Time4Humanity. In July 2022, he launched his latest book, 9 Lessons from the Universe.