Image credits:
Two cynical orcas commenting on the failed Titan expedition to the Titanic. Courtesy Joon W.
While most of us were enjoying the summer, and The Liberum's production was on a low note, our in-house cartoonist, Joon W., was the victim of censorship on social media. Of course, cartoons are a matter of taste, but censorship goes against everything we at The Liberum stand for. As a sign of support, we publish both cartoons so one can judge by himself.

By Arthur Blok
Another new low in the category of online censorship. Here is what happened. "The story itself is not so funny", Joon W. started. "It happened in late June when I first published the cartoon with the two orcas commenting on the Titan on my Instagram page."

For those who do not remember, the Titan was a commercial submarine submerged on a dive to the Titanic wreckage that lost contact. The five-person crew on the commercial submersible, owned by OceanGate Expeditions, site Sunday morning, and the crew of the Polar Prince research ship lost touch with the sub about an hour and 45 minutes later.

Joon W.: "A few days later, I published one of the most absurdistic cartoons I ever drew: were two snails discussing an un-snail-like sexual activity. Uncommon activity. You can make everything you want from that cartoon; drawing is quite simple, and so is the colouring, not meant to amuse an - intellectual - audience."

It does not even insult the growing radical wokists out there. As tasteless as it may be for some, it is not insulting. Unless you identify as a snail, perhaps, all of a sudden, a few days after the publication of the second cartoon, Joon W. could not access his account.

It was suspended.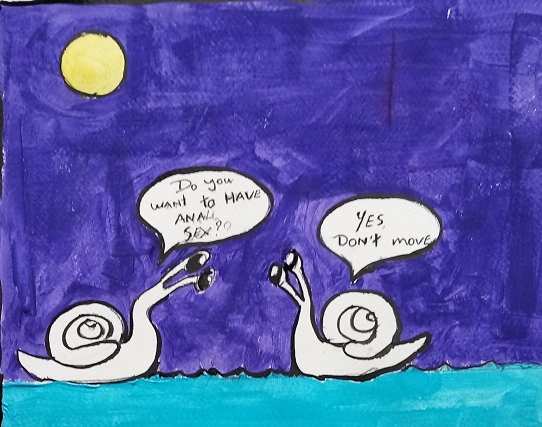 Joon W.: "What to do? Instagram has some kind of ballot committee that judges you after filling out a long questionnaire with the most awkward personal questions; if they are happy with your answers, you get your account back."

To make a long story short, roughly a week later, Joon W. got his account back a few days later, but Instagram deleted both cartoons, not citing any apparent reason.

Joon W.: "That means that someone must have been offended by snails discussing sex or by the cynical orcas commenting on what happened with the Titan. Imagine? You see the most extreme things on Instagram, but two innocent cartoons are seen as pushing the envelope."

With that, Joon W. hits the nail on the head. The trend of silly social media censorship will only lead to a further lack of information and the subsequent development of apathy, ignorance, conformism and general stagnation. It is a direct threat to our democracy and encourages subversive activities.

It limits individuals' freedom of expression; in the case of Joon W., it is a limitation of his artistic expression. Whether one likes his work or not, in the end, it remains a matter of taste.

Let's see what happens after we publish this article on The Liberum's Instagram page.

To be continued.