The situation in Lebanon is deteriorating. People are increasingly desperate amid the political deadlock, the financial meltdown, the rising poverty, and COVID-19. In this unprecedented economic crisis there is still room for success proves Lebanese entrepreneur Rony Abou Saab (43).
By Arthur Blok
Abou Saab started working when he was only 16 and was still in secondary school. He organized various events and parties. Later, when studying at the university, he organized an annual Miss University election. After a corporate adventure of almost 10 years at British American Tobacco (BAT), he decided to resign and follow his dream: becoming a full time entrepreneur.

"I left BAT when I was just 33. In the years that followed I opened various bars and cafés: a very dynamic market in Lebanon. The life cycle of bars and cafés in my country is noticeably short: one moment you are hot, a few years later you are not, and you need to change. That makes it both dynamic, and complicated", said Abou Saab.

Sandwich w Noss
In 2015 he decided to leave the nightlife for what it was. He started a new company called Chapter Two: a company with a portfolio that included a rooftop bar, a shisha café and Sandwich w Noss (Arabic for 'sandwich and a half'). A new brand that brings back the authentic Lebanese flavour in an original snack experience, according to its website.
It was a success from the beginning. In less than five years he opened seven restaurants in Lebanon with over 150 employees. Abou Saab: "What is a common problem when you order a sandwich? One is never enough. So, what do you do? You order two, but that is always a bit too much and you throw away at least half. One and a half sandwich is usually enough."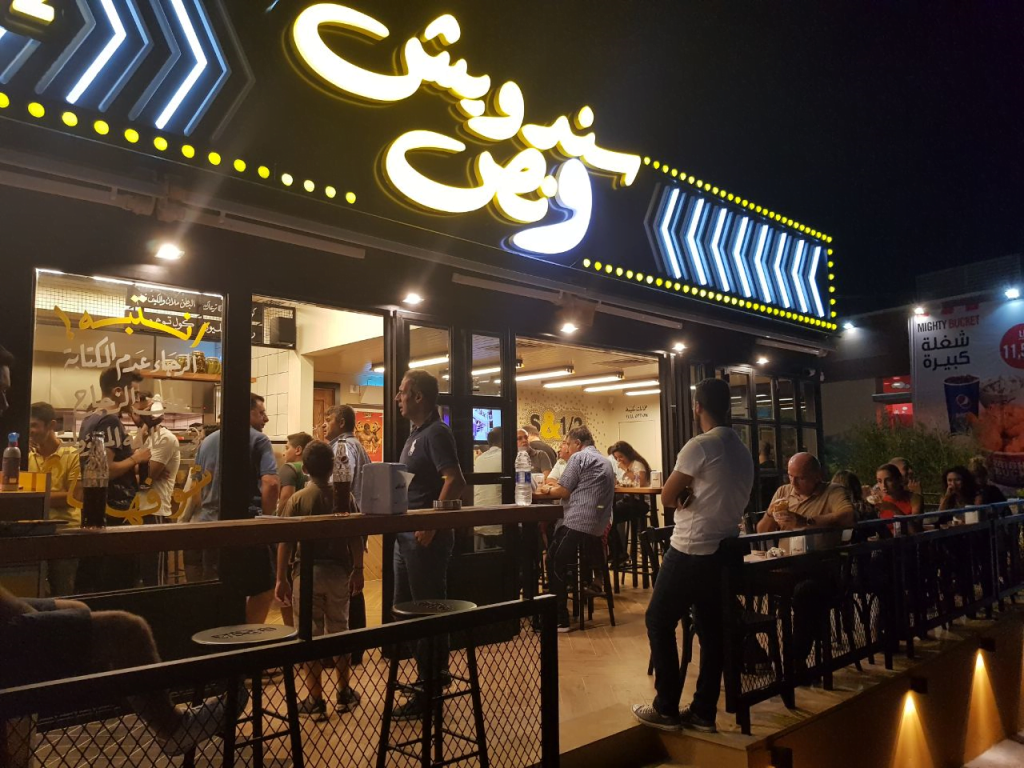 An outlet in Dubai
The success of his formula was noted. For years he received requests from potential franchisees from all over the Middle East: "I declined most of those requests. Simply because I felt we were not ready for such a step."

After failed adventures in the UAE of local Lebanese fast-food restaurants like Roadster and Crepaway in the past twenty years, Lebanese formulas are now taking over the UAE market. Currently Malak al Tawouk is expanding rapidly since its launch in 2020 and a locally set-up formula called 'Allo Beirut' is doing the same.

Abou Saab explains selling Lebanese style sandwiches and finger food is a very 'lucrative' segment in the food and beverage market. It is so lucrative that even other 'older' formula's such as Barbar - a famous fast food restaurant in Beirut's Hamra district - is opening its doors this summer as well in Dubai.

Sandwich w Noss is next one in line.

Abou Saab: "Why are some formulas a success and some not? It is always a combination of factors. That is why we were playing it relatively slow in relation to our franchise plans. I could have sold my concept years ago already, but the brand was not ready."
Lebanese crisis
The current all-time low of the Lebanese currency - known as the pound or the lira - has riled people all over the country. Down from 1500 to the dollar to a stunning 12.000. The purchase power of the Lebanese took a plunge, restaurants and bars massively closed its doors.

Abou Saab managed to keep his head above the water in these challenging economic times: "It was not easy. I decided to make use of my time in the crisis and fine-tune everything we have been working on in the past years. The design of our restaurants, our packaging, the kitchen, and even the menu. We reduced the number of items to simplify things and make things easier."
As a result, he has upgraded Sandwich w Noss to the next level. "If someone would have bought my brand two years ago, he would have gotten something else than what he gets now. We are basically done, that is why we decided to enter foreign markets this year. We are ready for it."
In January he came to Dubai for the first time and met many potential franchisees. After numerous meetings and comparing business plans, he found a good match, and since that moment things are moving rapidly forward.

Abou Saab: "We are currently in the last phase of locking our first location. We expect to open the doors of our first restaurant in the third quarter of 2021. After the launch multiple other locations will be added all over the UAE. We have exiting times ahead of us indeed."