I know Blaze through my author friend Ahmed Salah Al-Mahdi. Blaze helped him designing adverts for the Egyptian Society for Science Fiction (ESSF) and get the English version of his steampunk YA novel, 'Malaz: City of Resurrection', self-published online (my translation). I also helped him with an online call he made for help with the first story of his "Farouk al-Hashemi" series, dealing with an interstellar Caliphate and Islamic themes and personas.
By Emad AyshaJust reading that one story, you could tell he's a scholar of Middle Eastern affairs, and, wouldn't you know it, he did a double major in Political Science and Philosophy at Wichita State University (his native Kansas) with a minor in Geography. Then he got a Master of Science in International Political Economics. So this interview had to happen!
Sorry for being a bit patronizing, but is Blaze Ward your pen name or birth name?
"Pen name. Technically, the name of a character I ran in a Star Wars tabletop roleplaying game about 35 years ago. The real name isn't quite John Smith, but not far off in terms of commonality in the US."
How do you make your daily bread, from being an author or elsewhere?
"I wanted to complete my PhD in International Politics and become a professor, but those folks, who were supposed to retire in the mid-90s, decided to die in the office instead, and there were no jobs—stumbled sideways into working on a political campaign, which did not work out as well. I worked as a Technology as Software Project/Product Manage for a few decades while writing poetry and drama.
My first wife died of cancer in 2008. My second wife (the Fabulous Publisher Babe™ whom I married in 2015) was a traditionally published author and convinced me that I could make money writing fiction.
The money I was making in software was not bad. I got lucky in publishing The Science Officer and other things and was able to retire to write full-time in early 2018. I was still going. Have published a novel or novella every month since late 2017. I also edit Boundary Shock Quarterly Magazine and Blaze Ward Presents."
What interests you when you write?
"I like writing about real people called upon to rise to exceptionalism. And Sticking it to the Man (whomever he is.) You know you are in a Blaze Ward story when characters have to make ethical decisions that are not always in line with moral or legal concerns.
I prefer Space Adventure and Space Opera (usually both military in origin, but I invent new armies as I go instead of using the US version.)"

It's great that you ask Arabs and Muslims to check on cultural and historical details for your stories about us. Why?
"I want to tell a story that gets the cultural notes right. That presents Arabs, Persians, and Muslims as they see themselves rather than in the terrible light by which Western Media generally presents them. I need to entertain first, educate second, and then subvert you third.
If I were to start writing much more Islamic fiction, I'd need to hire an expert to copyedit and ensure I get those details right, but I have studied a great deal since I got my first Quran from a friend in 1991."
Concerning Sufism, I liked your presentation of the Sufi hero in your Assassin story, a very scholarly and ballsy dude. Are you deliberately bucking the trend of how Sufism is presented in Western SF?
"Not sure I'd call Farouk al-Hashemi a Sufi (but that might be my ignorance). I came across the story of Imam al-Ghaazli's stolen books in researching for a call to write a report for an Islamic Science Fiction anthology, and that idea resonated with me.
Farouk went on the Hajj to Earth but returned more of an Ibadhi when a similar thing happened to him. The Ibadhi were the only major group where you didn't have to be Qurayshi or even human to be a good, pious Muslim and lead your tribe or village.
Ballsy, because Brother Camel has brought the word to these aliens and must set an example. Even when his father sends his brother to kill him for his apostasy when he has refined what it means to submit to the will of Allah and his Prophet PBUH."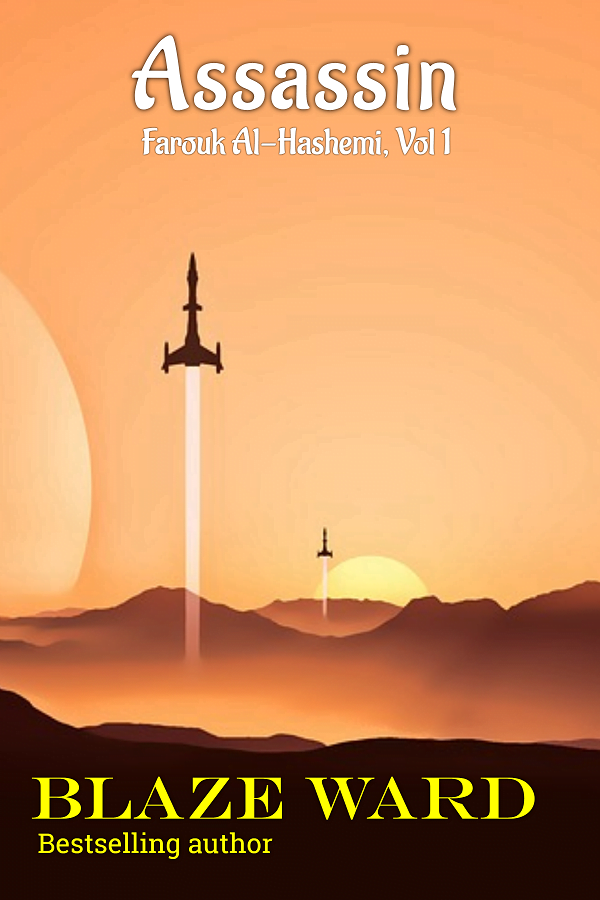 If more Muslims and Arabs write Sufi SF, can we turn the tables on how Islam and Arabic culture is presented in the West? Or will translation and the publishing industry 'filter' it out?
"No more gatekeepers are preventing you from publishing anything you want. Part of the reason I edit Blaze Ward Presents is to find new voices. I have published folks from the US, Canada, Australia, Great Britain, Nigeria, and Egypt. And hopefully, a few Iranians will come through with the next project, and I can expand my map.
In my perspective, "Traditional/New York/Mainstream" publishing is owned by folks that control the message and perpetuate harmful stereotypes. Amazon, Kobo, Barnes & Noble, and iTunes let you reach readers directly."
Is that why some of your stories are about us?
"Sticking It To the Man above. Entertain you with Brother Camel. Educate you on what it means to be a pious Muslim when most Westerners have no idea. Subvert you into seeing the work differently.
If we ever get to the stars, it will be all of Humanity. Speakers of English (presumably), Kiswahili, Arabic, Hindi, Spanish, and Chinese. Those latter three get reasonable press in the US, based on how many folks have emigrated to the US over the 20th Century and later.
The Arabs and Persians (Sunni, Shia, Sufi, and the rest) get a bad press these days. I'd like to do something about that. And I can."
Finally, what are your future projects? Mideastern and otherwise?
"I have a sequel to Assassin called Witness that carries Farouk's story forward. I'd like to write more of those. Maybe a novel of the Hajj for a group of near-human aliens visiting Earth.
I'm currently in the middle of a Space Western Adventure series called Last Stand (Lost Dreams) and a couple of new Space Opera series in the works (The Corsac Fox and Marrakesh)."