It's not only about the hotel's facilities, rooms. location and activities, it's about the hotel's sustainability and green initiatives that Baron Resort Sharm el Sheikh is keen on doing to position themselves as a sustainable and environmental friendly hotel.
Baron Resort Sharm el Sheikh organizes activities, on monthly basis, "the clean and green day" with the hotel employees and guests to maintain sustainability of the place. Activities that encourage the staff members to clear the litter not only inside the hotel but also in the hotel's surrounding area to keep it clean and healthy for all the staff members, guests and the neighboring area.
In addition there is an educational element. The day is also there for educating the kids' hotel residences the importance of planting by engaging them in the activity.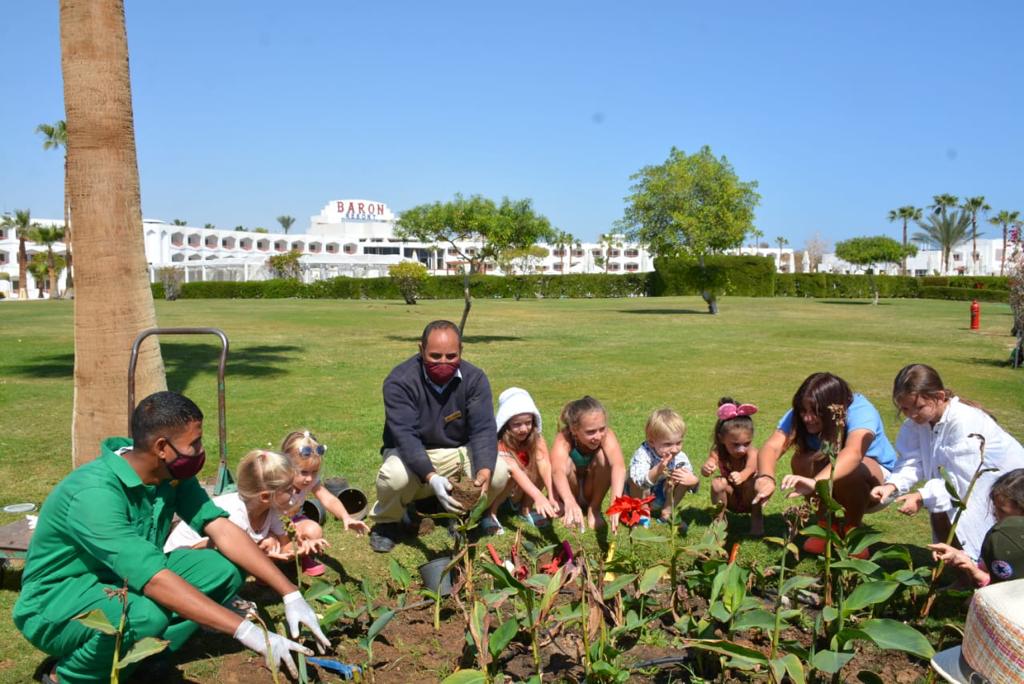 Initiating a CLEAN UP & GREEN UP activities are great ways to make a difference! Gathering people together for a cleanup also promotes stewardship and camaraderie, and is surprisingly fun!
Furthermore, our guests will feel empowered and appreciate the opportunity to contribute to our environment. They will also love and recognize our efforts to make a difference as well.
The many sustainable efforts that are undertaken regularly by Baron Resort Sharm el Sheikh that occur behind the scenes; CLEAN UP & GREEN UP Day is a visible way for us to demonstrate our commitment to our environment, to our guests and the local community.
About Baron Resort Sharm El Sheikh is the five-star luxury hotel and is perfectly located in the aqua oasis of Ras Nasrani, one of the most famous water sports and diving locations worldwide. The 100,000m2 property consists of 360 beautifully-appointed rooms, suites and royal suites with private swimming pools and butler service, amidst 80,000m2 of exotic landscaping stretched over 600m of a private sandy beach.
About Baron Hotels & Resorts Egypt is an Egyptian leading hotel management group that has established an outstanding reputation for hospitality excellence since 1980 with one thing in mind: delivering luxury experiences. The boutique chain received numerous international awards throughout the years, from different renowned travel and corporate organizations from the UK, including Thomas Cook and Thomson and from Germany, including TUI and Studiousus, as well as the Egyptian Ministry of Tourism. It is annually recognized by international organizations such as Trip advisor, Holiday check and Top Hotels.