As the clock approaches midnight on New Year's Eve, I won't be found at a party. I will be heading to the airport on what has come to be known as my annual 'spiritual journey', seeing me travel in recent years to far-flung places such as Madagascar, India, Tibet and Rwanda. This year's adventure took me to the magical Kingdom of Bhutan.

By Samie Al-Achrafi
The only 'carbon-negative' country in the world where there isn't a single set of traffic lights and 70 per cent of the land is covered by forest. Bhutan's constitution demands that a minimum of 60 per cent of the total land shall remain under forest cover in perpetuity, as its development framework equally prioritises environmental sustainability with socio-economic development, cultural preservation and governance.

The 4th King of Bhutan, King Jigme Singye Wangchuck, first coined the term 'Gross National Happiness (GNH) in 1972, which became the country's alternative philosophy to Gross Domestic Product (GDP).
With GDP, all human activity is essentially boiled down to a single number over a specific period, and that figure is meant to tell us something meaningful about human progress. But fundamentally, GDP was not designed to assess the well-being of citizens. It was designed to measure output, and economic growth does not guarantee rising happiness.
"When we know that monetary wealth and material wealth will not translate to what you want in your life…peace of mind and happiness…then why should we target that as our main objective?" (Prime Minister of Bhutan, Dr Lotay Tshering)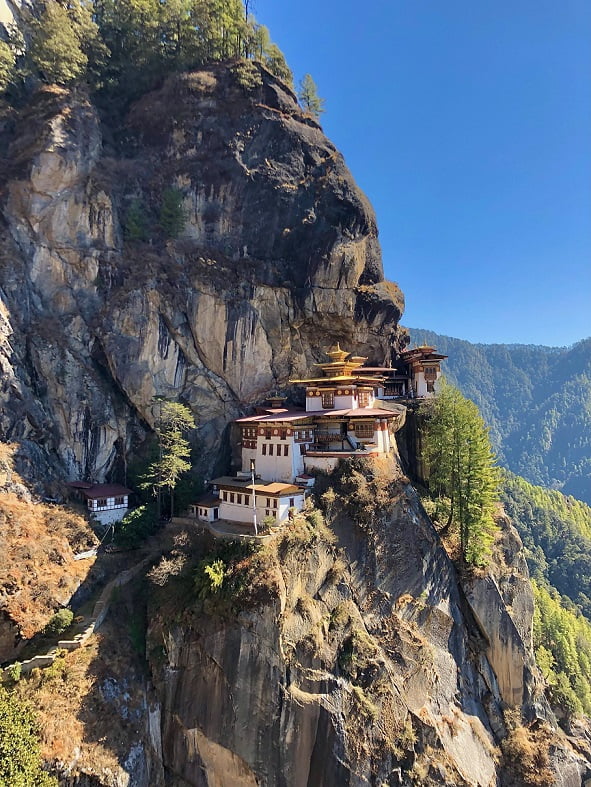 The Bhutanese believe happiness is not gained solely through the acquisition of stuff or via responses to external stimuli but something that comes from within. Unfettered capitalism falls short, as economic success must be balanced with cultural, spiritual and environmental riches.
Their development approach serves as the framework of government accountability, centred around nine domains:
1. Living standards
2. Education Health
3. Environment
4. Community
5. Vitality
6. Time-use
7. Psychological well-being
8. Good governance
9. Cultural resilience and promotion

There are 38 sub-indexes, 72 indicators and 151 inter-related variables used to analyse the population's happiness.

As I explored the Himalayan Kingdom, I held the question, "Are these the happiest people on earth?"
According to the World Happiness Report, no.
But what I experienced in Bhutan was joie de vivre – the joy of conversing, connecting, walking, eating, learning… or anything one might wish to do in a day. My friend Yeshi and I hiked around the mountains wrapped around the capital Thimphu – after an hour or so, I removed my headphones and plugged into nature. At some point, I asked Yeshi, "Why do you care about the environment so much?" He replied, "These are our values; nature is part of humanity."
In Bhutan, the environment is not seen as 'other'. Everything begins with the self. Because if I look after me, I look after you, and I look after the earth.
Isn't that what Conscious Leadership is about? Having the courage, curiosity and compassion to work on oneself so that we can show up differently in our households, businesses and communities. And as more people make the shift, it creates new norms that influence how others show up. That's the power of culture and values.
As the call, so the echo
Growth matters, but it is not the only way to measure progress. I am reminded of this quote by Pat Williams:
"Money can buy a house, but not a home;
A bed, but not rest;
Food, but not an appetite;
Medicine, but not health;
Information, but not wisdom;
Thrills, but not joy."
Critics of GNH might say, "It is easy for them…it's just a PR stunt…we are better in other ways…." Perhaps it isn't realistic to have a nation of happy people. That doesn't mean that we shouldn't aspire to maximise the happiness of citizens on the path towards a more sustainable and equitable society.
But while social policy can help, happiness is ultimately an inside job that comes down to individual choice. It is a fleeting, changeable state that is different for everyone. We can experience it now and escape the misconception that it lies in a future state or outside ourselves.
At 10,000 feet in Bhutan, I realised we have been investing in changing mindsets of late. What is emerging now is the opportunity for changing heart sets.

Samie Al-Achrafi is a Syrian-British entrepreneur who owns the leadership consultancy Marmalade Fish. The first (and to date only) Certified B Corporation in the United Arab Emirates.