Image credits:
Lebanese entrepreneur and artist Fadi Balhawan pouring The Liberums' editor-in-chief Arthur Blok a cup of coffee in the Mall of the Emirates. Picture by Arthur Blok.
The artwork of Fadi Balhawan (1966) is so unique that it is almost impossible to find an artist with comparable work anywhere in the world. His art can only truly be understood when seeing it yourself. With pride, The Liberum announces a new section dedicated to his work.

By Arthur Blok
Balhawan has a dynamic personal history. He is not your ordinary artist but a relaxed, self-confident, and sophisticated individual that breathes art. Becoming an artist is something he has fancied since he was 12 years old.

Not so easy for a boy growing up in the Middle East, coming from a Lebanese family of traders. Living up to your parent's expectations is a struggle for many growing up in the land of the cedar.

"In our culture, it is not something you tell your parents at that age. It is simply not done. In Lebanon, parents have certain expectations for their children. Becoming an artist does not even have a place in the dictionary. Because of that, I waited almost 40 years to pursue this dream," said Balhawan.

At ten, he was injured by a bomb explosion in the Lebanese civil war (1975-1990). He still has many scars that remind him of that incident. Balhawan: "I barely survived. I remember it as if it was yesterday. I can honestly say that it was a moment of revelation. It left a psychological scar as well."

His injury triggered something as well. He began to write and draw during a seven-month rehabilitation. From that moment on, he understood the actual values of life. He graduated from the American University of Beirut (business administration), took over his father's company in dental supplies (TOFF Group), and expanded the family business successfully far beyond Lebanon's borders.

As a self-taught artist, the proud father of four rediscovered a devotion to his time-intensive pieces, just like when he was a child. His art is challenging to describe. It combines literature, calligraphy, ink and pens, painting, poems, and even video; finding an artist with comparable work is impossible.

The most similar art would be the work of the late French-born Polish painter Roman Opalka, whose works are primarily associated with conceptional art using mainly numbers, almost identical to the letters Balhawan uses.

Another artist who comes close to his work is Idris Khan, who uses many cultural sources. Khan combines literature, history, art, and music to create layered imagery. But it is not hand-written like Balhaman's unique work.

"You see many artists who are talented calligraphers, but it is still different. It is not calligraphy but something else. Things are happening exponentially. It is quite difficult for me to explain."

Balhawan transcribes well-known books in Arab literature or spiritual writings on paper or canvas. "By coincidence, I was invited to a dinner commemorating St. Augustine in Lebanon. I did not want to go there without knowing who he was, just to be prepared if someone asked me a question."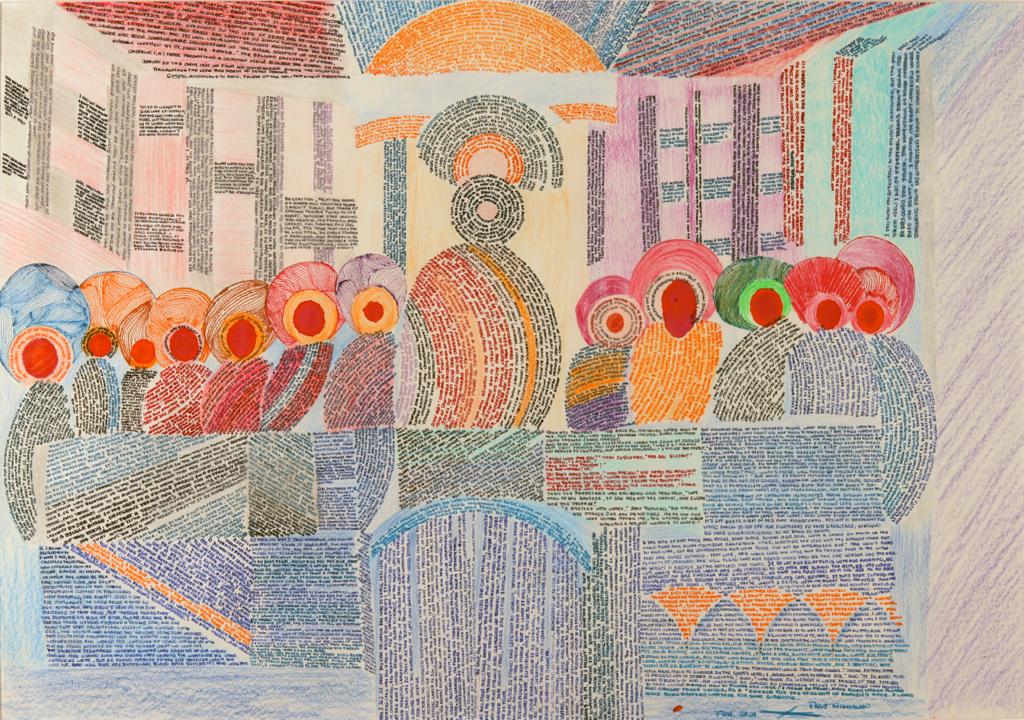 After reading the most popular book of St Augustine - The Confessions - he realized something. It was one of the first theological works that attracted him to theology while still in university.

"I looked in my library, and I found the same book. It helped me to get back to my understanding of the metaphysical. Was it a coincidence or a sign? I read the Bible and the Quran numerous times, and I strongly believe that there is one creator with a path for us all."

Looking at his work, one thing becomes evident: it is artistically recreating the text in lines that run in various directions in a beautifully artistic manner. There are various possible interpretations of the text, which is written in different forms, patterns, and figures.

The cutting edge is in the fine details of his work. His creative writings go from zero to infinity. "From my perspective, it is all combined well, creating shapes that strengthen each other in their meaning."

Soon the highlights of his art, information about his expositions, sneak previews of his latest work, and unique videos will be posted in Fadi's Art Section. To see, interact with, perhaps dispute, argue, and communicate. That is the core of his work.