Image credits:
(front row from left to right) Frank Haasnoot, Marcel de Leeuw, Michel Perridon, Francois Geurds, Lars Abels, Andre van Doorn, and Bart Klomp. (second row from left to right) Lars Albers, Edwin Klaasen, Djailany van de Laarschot, Danny Dukers, and Maarten Ploeger. Picture by Antonie Robertson.
Dubai is known for its riches, vibrant culture, luxury, and record-breaking projects. It's a metropolis where the world gathers for extraordinary events, like a 10-star Michelin dinner in the city's prime location: the Burj Khalifa. This unique gathering last Friday of the world's best Michelin chefs by Perridon Holdings raises the bar for future events in the Emirate.

By Arthur Blok
The 10-star Michelin dinner was a collaboration between Perridon Holdings, and the Dutch division of Bocuse d'Or NL (created in 1987 by Chef Paul Bocuse). Michel Perridon, one of the Netherlands' most successful businessmen of the past 25 years, is the driving force behind this distinguished event. He is the founder of Perridon Holdings, which has its headquarters in Dubai.

After years of unprecedented success in Europe, Perridon chose to explore the UAE, particularly Dubai. "Definitely the right choice", the Dutch entrepreneur said, looking back on the past two years.

"To be honest, it was a distinct privilege to host the first 10-Star Michelin Dinner ever in Dubai", Perridon added, who is a fine-dining lover himself. "We wanted to create something extraordinary. Something that had never been done here. I am proud of my team that we succeeded."

It was a privilege indeed to be present. Over a hundred prominent guests gathered at Armani Ristorante, the first Michelin-received restaurant in the Emirate. The one place to be in downtown Dubai, with its magnificent view over the Dubai skyline, next to the Dubai Opera and Fountain.

Is there a better location to host such a high-end evening? Probably not.

From the moment the team of chefs arrived in Dubai, the preparations for the 10-star dinner, which included lobster, wagyu, and caviar started, the famous Dutch chef Francois Geurds explained.

Another world-famous cook on the star team was award-winning chef Frank Haasnoot, who has over 23 years of international experience. Haasnoot specialised in pastries and won several international competitions.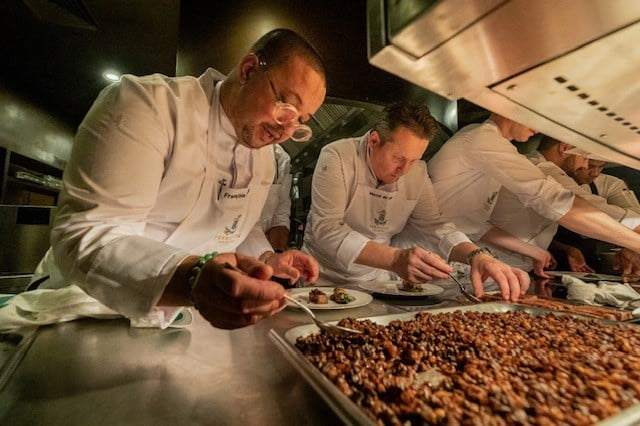 "What a fantastic venue," said chef Geurds. "Truly an epic location. It was a lovely evening with good food and company," Geurds added, who is a personal friend of the Dutch business tycoon.

In addition to fine dining lovers, some of the most influential crypto individuals were also present.

"Combine that with governmental officials and real estate experts, and you have all the ingredients for amazing conversations", emphasised Floyd Perridon, Vice President of Perridon Ventures, a subsidiary of Perridon Holdings.

He added: "This distinguished mix of guests with their specific corporate experience led to many new business ideas."

This exclusive event, invite-only, definitely tastes like more. What can we expect from Perridon Holdings in the (nearby) future?

Michel Perridon: "We are always looking for new opportunities and continuously ask ourselves the question: has it been done before?" If the answer is negative, there is a big chance that we will say, 'let's try'."

"The most important criteria are that it has to be unique and unexpected. Mainstream events are just not our thing. Let's make history together."