Image credits:
Saudi Arabia's first female tour guide Abir Abusulayman in Al Ula.
Saudi Arabia is on a path of dramatic economic and social reforms. The reforms, launched by Crown Prince Mohammed bin Salman, are aimed at modernizing the kingdom and are welcomed both nationally and internationally. Abir Abusulayman stands at the forefront of social reforms, in particular women's right to choose. The Levant News spoke exclusively with her.

By Arthur Blok
Abir Abusulayman was a pioneer in her field. She was the first female tour guide in the kingdom. A profession that was only reserved for Saudi men in the past. Her efforts paved the way for many other ladies to choose the same profession.

"I used to work at the Ministry of Education in a completely different role. In 2011 I helped with the registration of historical Jeddah to the UNESCO Heritage List. To register there were a few points missing. The most important one was 'community involvement'. That is how I started."

As of that moment she became active in creating awareness about the rich local history and the importance of preserving things for future generations. Her interest in the history of her country triggered a process of studying the origin of various historical sites in Jeddah and beyond.

"As a result of my newly acquired knowledge I used to invite people to certain sites and showed them around. People told me: 'why don't you become a tour guide?' The way you explain things is so pleasant."

After years of working as an educational supervisor in the Ministry of Education she realized there were a lot of similarities occupations. In particular, the story-telling aspect of the job.

"At that time ladies were not allowed to have a license to do such kind of work. I decided that this was my mission: to pave the way for others to come. There was nothing officially written that women cannot be a licensed tour guide, so I started with my formal requests to get one.

We have a department in King Abdul Aziz University to study history to become a tour guide. There was even a girl's department. I was like 'how is that possible? How come they can study it, but not be licensed?' So, I took it as a personal mission."

The Saudi pioneer started to give tours for free. Being one of the few who speak fluently English and French in her region opportunities arose. She was asked by the government to give a tour for some diplomatic guests. This how the ball started rolling.

Vision 2030
In 2017 when Vision 2030 was presented by crown prince Mohammed Bin Salman, things started to open up. Closed doors were opened, and Miss Abusulayman received the license.

"I was not the first one who got the license, but one of the first. I am immensely proud to help this process and there are now hundreds of ladies who are licensed all over the country."

Many things changed for the better since Vision 2030 in the kingdom. Economical, judicial, and social reforms were announced and implemented. Since that moment, the country is on an unstoppable path of reforms.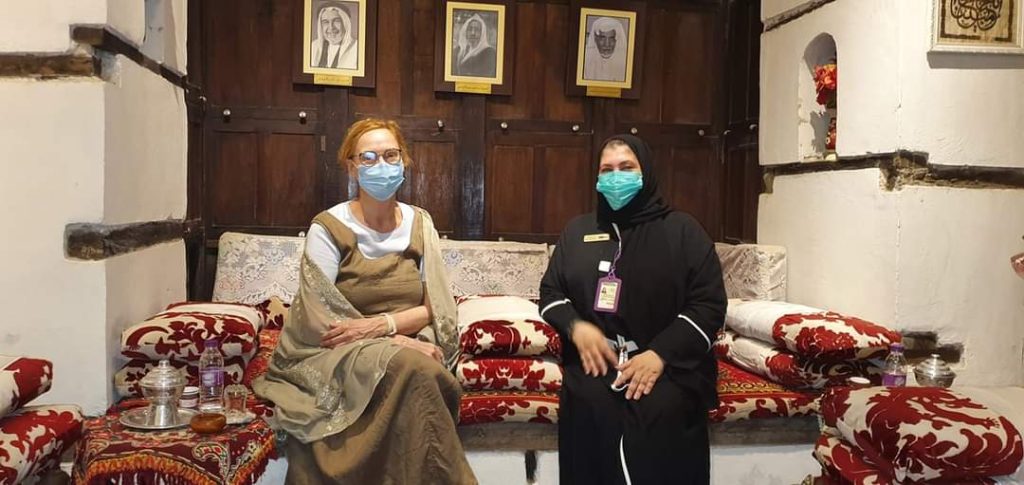 "Many people would say that women's rights were improved, but that is not entirely correct. In our religion we already have a lot of rights for women, even more than men. The problem was the right to choose. That was missing. The fact that we have now the freedom of choice, this is what made the real change in our country."

After opening up it became evident to the world that Saudi Arabia is in fact a mix of conservative, and open-minded people. A country full of diversity, but anno 2021 it is not the conservatives who decide what people can and cannot do, but a more moderate state. A big difference with a decade ago.

"Here is a funny anecdote. I used to drive abroad, and not in my own country because of the restrictions. Now women can drive, but I choose not to do it. When I go the historical sites, I order an Uber. It is much easier. But I am happy that if one day I decide that I want to drive, I have the freedom to do so."

Pandemic
The Saudi government has invested heavily in the tourism sector, and then Covid came and everything in the world came to a halt. Ironically, the pandemic came at the right time in the kingdom.

"I mainly work in the historic site of Al Ula. Since we opened our border's tourism increased exponentially. I had to work literally seven days week. The demand was so high, we could barely cope with it.

The Covid pandemic halted everything globally, and in thus in our region as well. It was great moment for us to reset things and evaluate one year of international visitors. When things were opened again in the second half 2020 something beautiful happened. We were re-discovered by locals.

One of the let us say positive side-effects of Covid on our sector is that there was a surge in awareness of domestic tourism. Young people, like my children, started to go on local trips and discovered their own country. Local tourism was never promoted here. Saudis discovered that we have many treasures.

In Vision 2030 around 100 million tourists are expected in the kingdom. A huge number indeed. To receive these people in a proper way, the Saudi government started a process of training new tour guides and opening doors for foreign investors to invest in hotels.
"I am one of the national trainers as well. We are training them now, and every month we license new guides. We are on the right path. Because of Covid we gained something on that front.
Of the recently introduced standards is that every guide should speak a second language. A rather challenging task in country that was largely closed for the past 40 years."

Al Ula
Al Ula is an ancient pearl to be discovered. It is one of the oldest cities in the Arabian Peninsula and home to Hegra, a UNESCO World Heritage site. This ancient city, once at the crossroads of The Silk Road and The Incense Route, has only recently been re-discovered by the world.

Recently it was announced by his highness Mohammed Bin Salman that Al Ula will be transformed into the biggest open-air museum in the world. After the hidden city of Petra in Jordan the Nabothians build Al Ula as their second capital. A site not to be missed.

"The beauty and magnificence of Al Ula is not something you can explain in a few sentences. You only understand the grandeur of it once you have visited it. I invited everybody in the world to visit my country, experience Saudi hospitality and see our rich history with their own eyes."

Arthur Blok is the Executive editor-in-chief of The Levant News.