Heavily polluted beaches and sewers that pump untreated wastewater directly into the sea. Not the scene of a country in the developing world, but the everyday reality in Lebanon. A nation led by generations of incompetent governments with no environmental agenda whatsoever. SWIM Lebanon is now turning the tide: cleaning up Lebanon's Mediterranean shores.

By Arthur Blok
SWIM Lebanon - Sustainable Waste Intercity Marathon - is founded by two nature lovers who see the sea as one of Lebanon's most valuable assets. As a precious resource that should be clean and accessible to everybody.

The young Lebanese association engages hundreds of voluntary activists who all have one common goal: to make Lebanon a better and cleaner place to live in. After their launch in 2019, volunteers from North to the South participated massively in their campaigns.

"We are more than just a group of people who clean up beaches and other polluted areas. We also aim to create awareness amongst the Lebanese and hope to stimulate good habits", said Lisa Sofian, co-founder of SWIM Lebanon.

In 2019 Sofian established the association with Nabil Aouad, an old schoolmate she met at a reunion after 37 years. "We both wanted to do something. We felt that the garbage piling up in our country would eat us if we left things how they were."

Creating environmental awareness is not easy in a country with corrupt, incompetent leaders who never take responsibility and always try to blame someone else. "I am shy to admit it, but our culture is terrible in this perspective."
From day one, SWIM Lebanon was a success. One of their first major national campaigns was set for August 2021. "From Naqoura in South Lebanon to Akkar in the North, we gathered thousands of volunteers for a coastline cleanup and open water swimming event," Sofian added.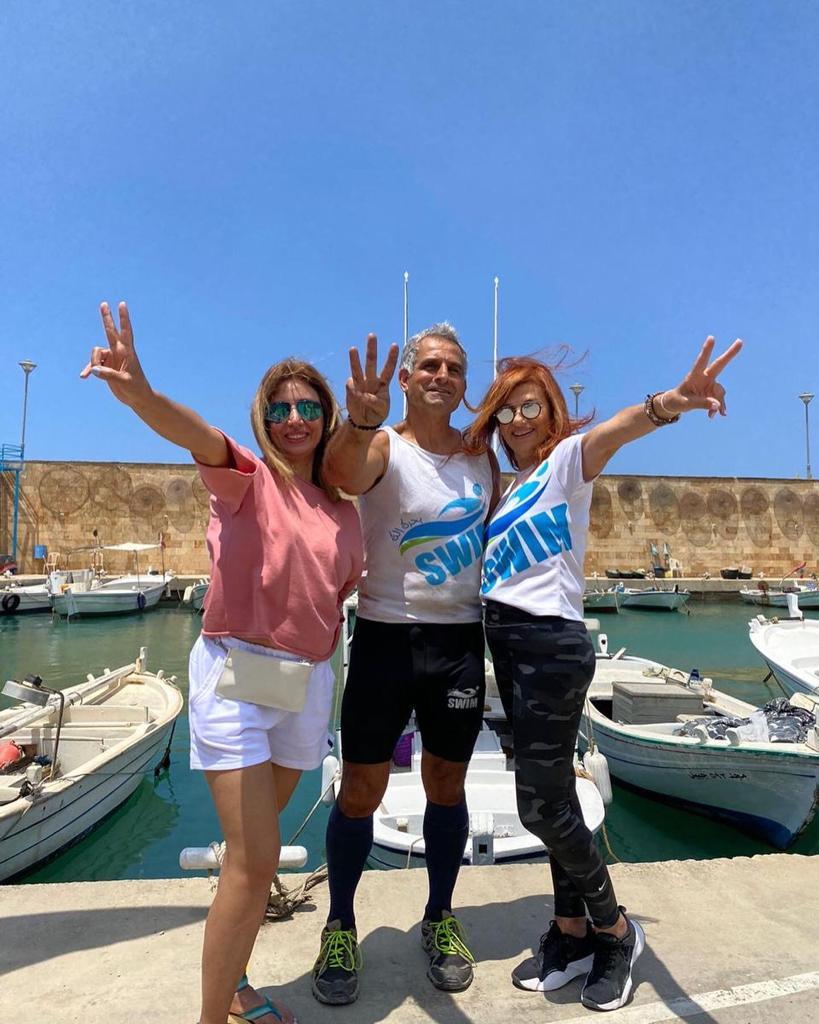 "For eight consecutive weekends, various activities were completed. Young and older men and women from all over Lebanon gathered with one common goal: to remove waste from the beaches and the sea because it is our sea. We have to keep it clean", said Sofian.

"Their campaign was a mixture of waste collection and open water swimming along our beautiful coastline," said Darine Saleh, a Lebanese communication specialist who helps SWIM Lebanon spread the word.
Saleh is an environmental activist who discovered her passion for nature with ALES (Association libanaise d'etude speliologique) more than 16 years ago. She was impressed by the ambitions of SWIM Lebanon and decided to offer her help.

"There is so much negative news coming from my country; I am committed to changing that. I love Lebanon and want to show the world what a beautiful country it is", Saleh emphasized.
All the collected trashes from last year's initiative were sent to local recycling companies for treatment. It started with just 40 volunteers, but as the news of the cleaning spread, they gathered almost 3000 volunteers. In the Northern city of Tripoli alone, 723 volunteers participated in a clean-up.

This success generated a snowball effect all over Lebanon.
SWIM Lebanon targets over 11 of the United Nations SDG goals. This summer, it launches an actual swim contest (#SWIMCONTEST2022). Sofian: "We called upon the Lebanese to form teams of 5 volunteers who would choose a location, organize a clean up and sports event around it and become the custodian of the location for 3 months to secure the sustainability of its cleanliness."
The participating teams are eligible to win eco-friendly Prizes. "The firrst prize is Photovoltaic system of 5 Amp for each member of the team. The second prize are five mountain bikes, and the third prize are five stand-up paddles", Darine Saleh explained who is herself a jury member of the contest.
SWIM founder Sofian further concluded: "It's not just a race; it is a race where everybody wins after reaching the finish line."