A dialogue with Rachel S. Cordasco, author of Out of This World: Speculative Fiction in Translation from the Cold War to the New Millennium (2021), published by the University of Illinois Press. The book is a series of chapters on individual language groups/countries that have a history of speculative fiction translated into English.

Interview by Emad Aysha
Each chapter begins with a small introduction by a guest contributor including Sonja Fritzsche, Edward Gauvin, Maria Haskins, Dale Knickerbocker, J. Pekka Makela, Julie Novakova, Keren Omry, Wojciech Orlinski, Sunyoung Park, Mingwei Song, Takayuki Tatsumi, and Francesco Verso. The book has won accolades from The Complete Review and World Literature Today and now The Liberum is following suit.
First, an introduction. Profession, education, and passions? And do not forget how long you've been in the genre business.
I received my Ph. D in Literary Studies (with a specialty in American literature) in 2010 but I've always loved translation and world literature. Since receiving my degree, I've worked as an editor and freelance writer. When I started writing reviews of science fiction in 2014 for John DeNardo's SF Signal, I received a couple of translated SF novels and the rest is history! I now mostly read and review translated genre fiction for World Literature Today and Strange Horizons, and it's continued to be a wonderful and enlightening experience.
Secondly, thanks so much for inviting me to do an intro to your chapter on Arabic speculative fiction in translation. It was an honor and I had a tremendous amount of fun doing it. You have 14 chapters, the book is just under 300 pages long (with 'small' font), and each chapter feels like a small book in its own right. Whatever gave you the audacity to tackle such a mammoth project? And how long did it take?
Ah yes, it is pretty mammoth, isn't it? After building up the SF in Translation website for three years, I realized there was still so much more to learn about this part of the genre and its history. Doing the research for this book was very satisfying, and having written a dissertation nearly a decade before and editing other people's books at my day job, I was familiar with what was involved in writing a book. By the time I finished the first draft, the book was actually 20,000 words too long! I had to do some serious cutting, which was painful but necessary to make this book accessible and useful. I was also motivated by the fact that this would be the first book of its kind and I wanted to be the one to write it!
In terms of how long it took to make the book: I wrote the chapters over a period of a year and a half. When I received word from U of Illinois Press after that that the book was definitely going forward, I contacted all of the intro writers and gave them a few months (if I recall correctly!) to send me their intros. Overall, the process of writing, revising, and copyediting took a little over two years.
There are a number of countries conspicuous by their absence. Iran, Turkey and India. India in particular given their prevalence at English. What gives?
I wish I could have included so many more source-language chapters in this book, but they'll have to wait for subsequent books! Since this book focuses only on speculative fiction that has been translated into English, I, unfortunately, couldn't include sf from India, most of Africa, and parts of southeast Asia (since much of it is written directly in English). I also had to limit my chapters by using source languages that had at least 10 or more long-form texts in English translation. In my next book, I will include chapters on Danish, Norwegian, Bengali, Greek, and more.
Wishing you the best of luck.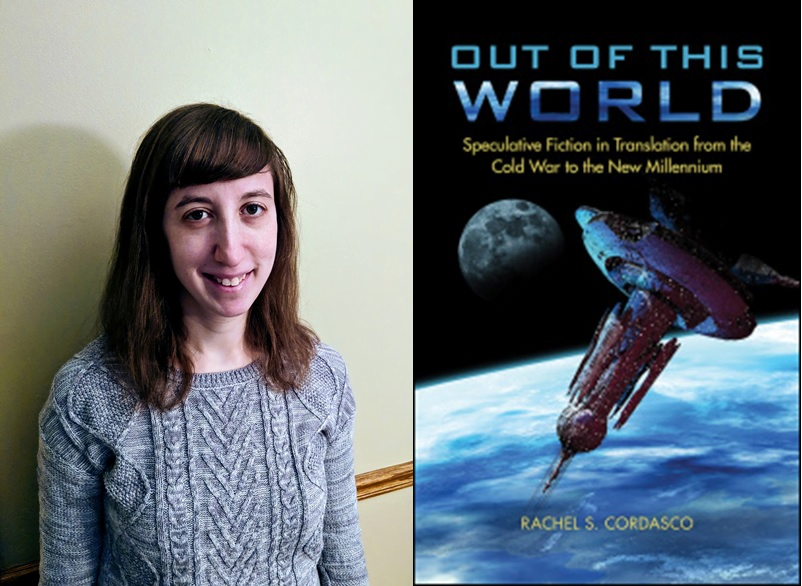 SPECULATION NO MORE: Cold hard facts catalogued by Rachel [left] next to her success story of a book. Globetrotting was never this much fun! [Image Credits: Pictures provided by interviewee]
Japan has the biggest chapter. No surprise there. But South Korea has an older history of fantasy literature, only to switch gears to realism. Comments?
Yes, Japanese speculative fiction in English is extensive and well-researched. It was mostly thanks to publishers Haikasoru, Kurodahan, and Vertical that us Anglophone readers were able to get our hands on such a treasure trove of Japanese sf over the past couple of decades. Korean speculative fiction in English is not as extensive but is definitely growing, and I love thinking about why, for instance, Korean magical realism is being translated, but it's science fiction that Japanese translators focused on. Perhaps it's because those subgenres were more dominant in the respective countries, or American editors wanted science fiction at the height of the translation movement from Japanese. At the same time, magical realism is more in demand now, just at the time that more Korean speculative fiction is being translated.
So, taking stock, how does Arabic speculative fiction fair by comparison? And do these different country experiences give us insights on promoting genre literature both in the Arab world and to a larger audience via translation?
Ah, quite the question! As I noted in my chapter, Arabic speculative fiction burst onto the Anglophone scene during and following the American invasion of Iraq and the Arab Spring. Readers don't want to be limited to what they see on the news – they often want to learn more about the cultures they hear about in world affairs. Unfortunately, translated fiction is still considered a niche in Anglophone countries, so it's up to individual editors, authors, and translators working in their respective source languages to reach out to Anglophone publishers and pitch their stories, novels, collections, and anthologies. Reviewers like myself can also help spread the word about various kinds of SFT. I usually recommend that promoters of SFT send stories out to magazines like Clarkesworld, Future Science Fiction Digest, Samovar, Apex Magazine, World Literature Today, Words Without Borders, and others to find a foothold. After that, one could contact publishers with a list of publications in English and encourage those publishers to publish something longer—like a collection or novel. If governments in Arabic-speaking countries could also promote Arabic SFT through government grants or cultural exchange programs, that would also help.
Finally, what are your plans for the future? Do you have a novel inside you waiting to hit the printing press?
I have so many plans but so little time! But yes, I intend to write a follow-up book collecting information about SFT from many more source languages. I'll probably run up against my word limit again, but I'll worry about that later. For now, I'm going to keep reading and promoting SFT.
And let me extend my thanks again on behalf of the Arab readers, and writership!
Thank you so much for interviewing me, Emad!!