After the positive echoes of SWIM LEBANON'S 2021 "Swim along Clean along campaign from South to North of Lebanon," the "SWIM 2022 contest" just ended, whereas 22 local teams took the sustainability challenge to spread environmental awareness in the land of the cedar.

By Arthur Blok and Lisa Sofian
The idea was simple: adopt an area in any region in Lebanon, organize a clean-up event, and keep its cleanliness for at least three months. A nice sustainable challenge indeed.

After a nine months program, initiated with induction workshops, mentoring in organization and experience sharing, and numerous verifications of quantities and computing numbers, the ten jury members chose the four best performing teams based on pre-agreed strict guidelines and criteria.
4th prize was awarded to Swim-Mina Rovers Muslim Scouts in Tripoli, under the banner of *Rescue Mina: they cleaned the coastal corniche of Mina Tripoli. They built a plastic boat from recycled bottles ever since they started to sort plastic bottles and sell them to secure small revenues for their club.
3rd prize was awarded to Swim-Byblos 5000BC, who organized a beach clean-up over a 100000 m2 area, encompassing all Byblos beaches. They received donations in return that they fully transferred to an association taking care of Children with cancer.
2nd prize was awarded to Swim-Keserwan Nature keepers who went off the beaten tracks and cleaned up Wadi Hrash in Daroun, making it an excellent blazed area for hikers during summertime and autumn the river is dry.

"The team from Keserwan Nature Keepers got so inspired from the SWIM contest that they are now officializing their NGO. Is that not amazing?" said Nabil Aouad, the cofounder of SWIM Lebanon.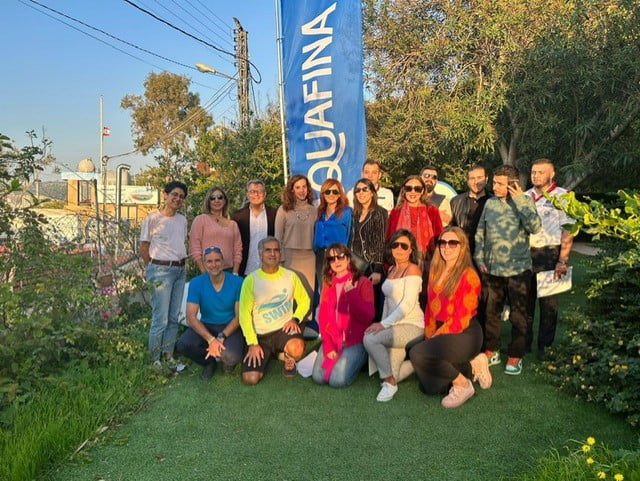 SWIM 2022 winners
The 1st prize went to Swim-Minaty, who covered the old quarters and streets of Mina Tripoli. They implemented a program of biweekly collection of recyclables while beautifying the neighborhood with flowery plants and graffiti designs.
Besides, they overtook the outstanding initiative of keeping the small Rmeileh island clean, which is one of the 13 islands of Tripoli.
"In addition to the above, two prizes were awarded in recognition of the efforts of 2 women who showed so much dedication in the environmental work, whether in awareness raising, encouraging youth to participate, or in the physical policing on the island," said Lisa Sofian managing director of SWIM Lebanon.
The prizes themselves were hefty in respecting the environment and reducing Co2 footprint: 5 Photovoltaic systems with storage, 5 Stand-up boards, and five mountain bikes.
The award distribution ceremony took place at SWIM headquarters in Amchit. It was crowned with a message from Sofian: "This is just the beginning of SWIM's Green Path, which is witnessing a real transformation in the environmental scene in Lebanon, impacting people's behavior and their mindset."

Sofian added: "We hope this change will be contagious with the community's support talking more and more about the gravity of the Lebanese waste situation that can be majorly solved by recycling at the source in the absence of the Government.".
Co-founder Aouad concluded: "Stay tuned; more events to come, and you do not have to wait till next year."