I had the honour and pleasure to visit one of Mount Lebanon's hidden gems in the village of Aytat, overlooking the Lebanese capital, Beirut. Aytat is home to a beautifully restored Ottoman mansion of the late writer, poet and artist Dr. Sami Makarem, turned into a private museum (Sami Makarem Cultural Center) by his son Samir and his wife.

By Arthur Blok
A sweltering August day in Beirut. Mercury has risen to more than 40 degrees for the fifth straight day. Driving a zig-zag road up from Beirut without properly working air conditioning is a fun experience on a boiling day like this. The streets are dangerous and chaotic for those who visit Lebanon for the first time; for experienced drivers like me, it is just an average day on the road.

After a roughly 30-minute drive, all of a sudden, the mansion pops up on a hillslope on the edge of the village. The late scholar Dr Sami Makaram bought this 350-year-old mansion built by the then-influential Druze Talhouk family in the early 70s when 'it came on his path'.
His son Samir describes it as a dream come true for his father; with great enthusiasm, Dr. Sami embarked on a massive renovation project to transform this 17th-century multifunctional compound into a family home.
During the Ottoman Empire and around the mid-1600s, the Talhouks were appointed feudal lords of the entire western region of the Aley District of Mount Lebanon. Their courtyarded mansion with over ten rooms had a specific purpose in the mountainous region.

As far back as the 13th century, the Talhouks were regarded as proud and fearless warriors who earned their title of "sheikh" at the tip of the sword. Their ancestors once lived in Iraq on the Euphrates' banks before settling in Damascus, then in Hauran, where they stayed for some 200 years.

From Hauran, they moved to Rachaya and settled there after a war, where they pushed the Crusaders out of Hasbaya. They joined the Druze faith and the Al Shehab family at that time. They adopted the name Talhouk because they came from a region known as Tal el Houk.

In 1244, after a dispute with Al Shehab in Hasbaya, the Talhouks travelled to the Beirut region and settled there for generations. Their beautiful mansion in Aytat reminded them of the family's influence in the area and the wealth they had acquired over the years.

Besides functioning as a house for the family, it was used to house military barracks, a bakery, and a courthouse, and some segments were used as a prison to administer the family's authority.

After purchasing the mansion, Dr. Sami Makarem started a long and expensive renovation process. The structure was so run down that he was ridiculed by villagers for going through with such a cumbersome renovation dream.

Unfortunately, the destructive Israeli invasion of a large part of Mount Lebanon in the early 1980s transformed the area into a ghost town for years to come, up to the early 1990s, when the war had officially ended.
Samir and his wife, Lama Abed, wanted to prove that destruction will never overtake love and development. He did his best to prepare what was left of the house to hold his wedding soon after he began a lengthy and costly renovation process.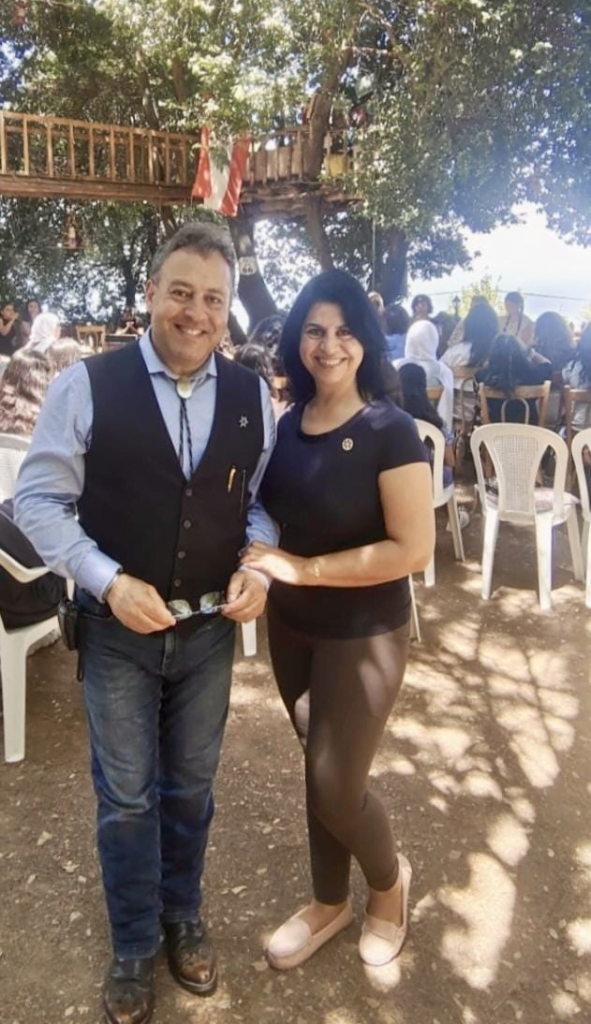 The result is something to be proud of. All the rooms around the courtyard are beautifully restored and full of memorabilia specific to that region seen from various moments in history. Of which Samir and Lama collected the most. All bills were paid using private (family) funds without financial support from relevant organisations.

There is more: to commemorate the Makarem family's memory, the mansion hosts an exclusive collection of artwork made by Samir's father, Dr. Sami, and his grandfather, Sheikh Nassib Makarem, another exciting. It also hosts, spread over various rooms, an immense private library with a unique collection of old books.

Looking carefully, one can find traces of other colourful family members with something interesting to share.

That the mansion speaks to the imagination of many became evident by all the requests Samir Makarem receives monthly to use his venue for weddings. All these requests are turned down except those from family members.

Samir and Lama are adamant about not turning the cultural centre into a tourist site. That does not mean that the mansion remains closed. Visits can be made with a private tour by written request and by appointment only.

In addition, the Sami Makarem Cultural Center is often used as a conference centre for training, workshops, and art exhibitions of international and local Lebanese artists such as Fadi Abou Daher and Wael Hamadeh. Both exhibited their artworks in the past year,

If you're interested, you can contact Samir directly for more information. Renting his venue has a price tag in the higher segment. What else can one expect from such a priceless location?