Once flourishing, Lebanon is now a country in decline. The scale and scope of its - economic - crisis are unprecedented. The incompetence of the ruling elite in resolving the crisis is striking. Keeping the head above water is a struggle for both civilians and entrepreneurs. Lebanese butchers, bakeries, and sandwich-makers collectively take their business abroad. Not without success.

By Arthur Blok
Being a Dutch - Lebanese in Dubai is not so bad these days from a food perspective. An ordinary Sunday morning in Dubai, looking for a manoushe, our most famous national breakfast item. So many different Lebanese bakeries to choose from.

For those who have yet to learn what a manoushe is, a round - pizza-like - bread eaten on the go. Crispy on the outside, slightly chewy on the inside, and topped with the most aromatic of spice blends like jibne (cheese), lahme (meat), or za'atar (a spice mixture that includes the herb along with sesame, dried sumac, as well as other spices). The latter can only be understood by tasting it yourself.

Good and tasty food is one of the last things we, Lebanese, can be proud of. One of the last that we export with pride and that has not been compromised with corruption and shame.

Leaving home on an average Sunday morning from Motorcity, one of Dubai's greenest and nicest suburbs, passing by a branch of the famous Wooden Bakery (since 1969), a stone's throw away from the Byblos Meat Shop & Gourmet (named after the coastal city roughly 40 km north of Beirut) and Zaatar W Zeit, facing the Lebanese owned Meat Master Butchery and fast-food chain Malak Al Tawouk (the king of tawouk).

A left turn onto the usually overcrowded Hessa Street is a stark illustration of what I mean. A small overview of the Lebanese enterprises along the way, starting-point the Saudi-German hospital. On the corner is Qalat Baalbek (Lebanese butchery and restaurant), Allo Beirut, Barbar, another branch of Malak, and many more.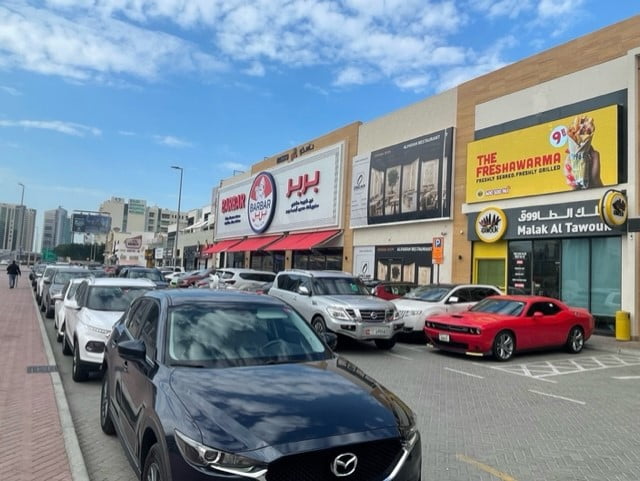 "We opened our doors in September 2021," said Alaa Chehab, manager of the Barbar Hessa-outlet. It was the first outlet in the GCC. "Business has been very good since that moment. We just opened a second branch in Business Bay", he added. "Abu Dhabi is next on the list.".

The famous fast-food restaurant born decades ago in Beirut's Hamra district and has also opened in Saudi Arabia, Qatar and even Egypt.

A bit further up the road, the first branch of the well-known Moulin d'or opened its doors. Besides all the thinkable varieties of manoushes, the place is loaded with local Lebanese brands and products. Difficult to choose between freshly made pastries and sweets like maamoul and namoura.

What a feast for the taste buds, indeed.

Opening a branch in Dubai was a great step for Moulin d'or, explained Farah Sankari, General manager of the brand-new branch on Hessa. "Dubai has a huge Lebanese community and is an attractive prospect to many entrepreneurs."

"In addition, it is one of the most popular cities in the region and holds global significance as a business hub. Our next goal is a branch in Abu Dhabi," Sankari added. Moulin d'or is a Master franchise, but this first branch abroad is operated by the head office in Lebanon.

Another successful Lebanese entrepreneur in the food segment is Rony Abou Saab (45), the creative mind behind Sandwich w Noss (Arabic for 'sandwich and a half'), who opened three branches in the past year his concept in Riyadh. He currently operates seven restaurants in Lebanon, employing over 150. The idea behind 'sandwich and a half' is that one sandwich is never enough, and two is too much.

"This is just the beginning. I anticipate more branches to open very soon in Saudi Arabia, while Qatar, Egypt and Iraq are in the pipeline," said Abou Saab. "We even have some serious leads from two European countries."

His success abroad does not stop him from enthusiastically running his enterprises in Lebanon. "The market is very volatile and confusing at this moment. The economic situation is bad; real economic reforms remain pending. We do not know what to expect next since there seems to be no real plan out of the crisis,"
If one looks at the country's dynamic history, Abou Saab remains optimistic about the future. "The Lebanese are risk takers and we learned to work independently from what's happening around us. It's just a matter of time before we are back on our feet."

Until that moment, taking their knowledge and success formulas abroad is the best way forward for Lebanese entrepreneurs.