President Donald Trump posted a tweet this week stating that that Dominion voting machines across the nation deleted 2.7 million Trump ballots. He added that further data analysis found that 221,000 Pennsylvania votes switched from President Trump to Biden.
By Arthur Blok
Records from the Federal Election Commission showed that the company received massive donations from Democratic donors. According to The National Pulse, "Of the 96 donations, 92 in total – or 95.8 percent – went to Democratic candidates, predominantly via ActBlue." This could explain why those machines "mysteriously" counted Trump ballots toward Biden.
Dominion Voting Systems, improperly counted ballots to create a fraudulent win for Joe Biden in Antrim County, Michigan and caused several other "glitches" that required extended voting hours and delayed results.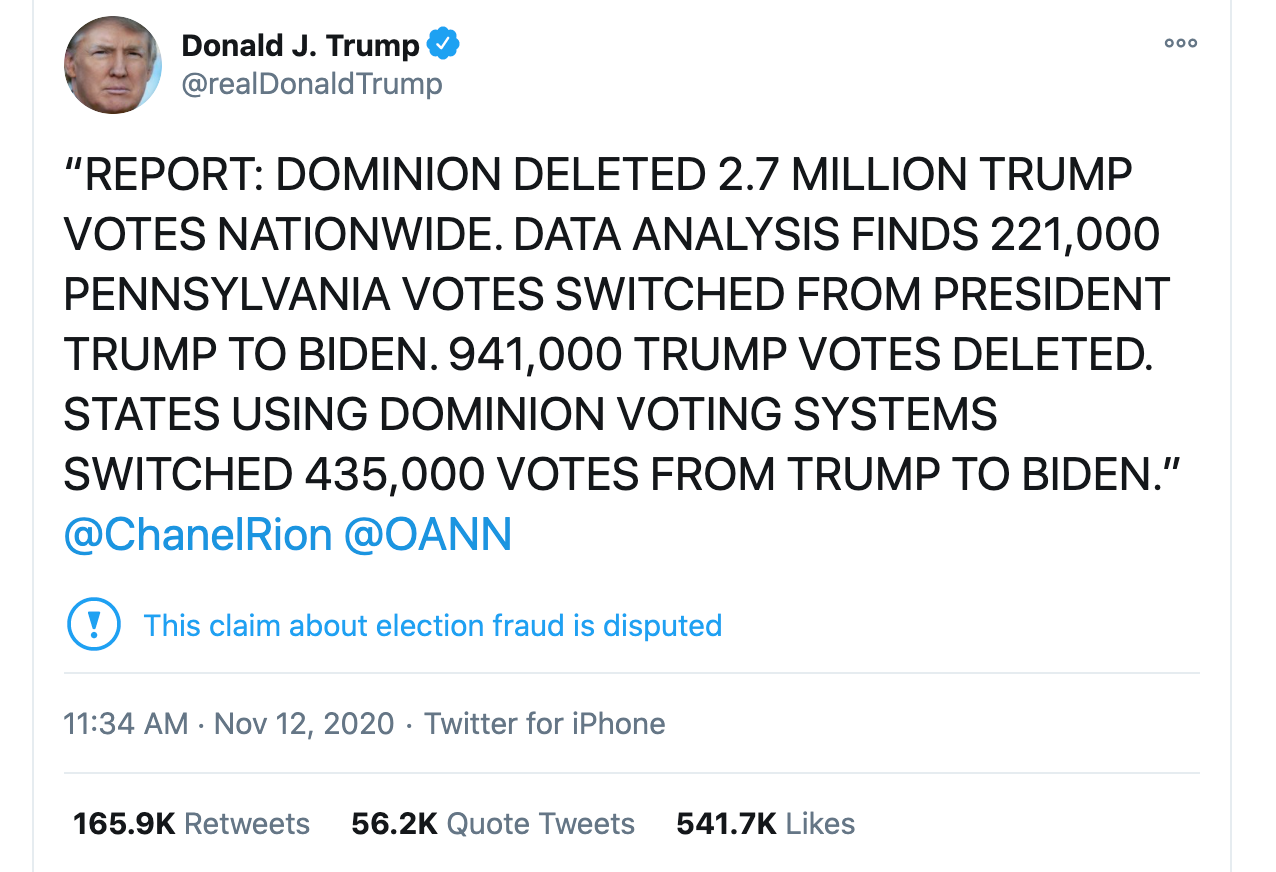 Rudy Giuliani
Rudy Giuliani says he has uncovered enough unlawful ballots in Pennsylvania and Michigan to turn the election in favor of Donald Trump. President Trump's personal lawyer Rudy Giuliani told Fox News host Lou Dobbs Thursday that he and his team have uncovered "enough unlawful ballots in Pennsylvania and Michigan to turn the election in Trump's direction."
Giuliani explained that the Dominion Voting machines in question used in the election "can be hacked." He went through the alleged history of the company and accused the company of having connections to the current Venezuelan regime and storing votes in Spain. According to Giuliani the company was established by three Venezualians with close ties the former regime of Hugo Chávez with the intention to "fix elections."
https://www.youtube.com/watch?v=bHiy-61rg0A&feature=youtu.be
The states have no ability to audit the ballots that are cast because of proprietary issues that inhibit a true assessment of the votes. Giuliani alleges that are more than 300, 000 unlawful ballots in Pennsylvania, as well as a similar amount in Michigan.
He added that the Trump campaign has multiple witnesses regarding irregularities that occurred on or before Election Day. However, he emphasized that it is the voting machines that caused the most discrepancies. "This is a stolen election," said Giuliani. "I know the elites don't want to hear it but it's a stolen election."
Dead people casting ballots
In another development this week Fox News host Tucker Carlson identified dozens of dead people who cast ballots in this year's presidential election, pointing to a push in some states to mass-mail ballots to all registered voters automatically.
Slamming the media for failing to report on such voting irregularities, calling it a "media blackout," Carlson listed more than 25 people who voted from beyond the grave just in states where President Trump is currently challenging the vote count.
https://www.youtube.com/watch?v=7VLjygvPrhc
"What we're about to tell you is accurate. It's not a theory. It happened, and we can prove it. Other news organizations could prove it, too. They've simply chosen not to," Carlson said on the program.
First legal victory Pennsylvania
Trump legal team has filed at least 15 legal challenges in Pennsylvania alone in an effort to determine who really won the state's 20 electoral votes. This week the Trump team won its first legal victory. The Pennsylvania Court ordered that certain ballots may not be legally be counted.
The ruling stated that: "[T]he state may not count ballots where the voters needed to provide proof of identification and failed to do so by Nov. 9," despite the Pennsylvania Secretary of State's attempt to extend the deadline to November 12. It further stated that the PA Secretary of State "lacked statutory authority" to override election law.
The decision matches the argument put forth by the Trump campaign, that the move had no basis in Pennsylvania state law, and was therefore unconstitutional. The court had previously ordered that all ballots arriving between November 9 and November 12 should be segregated. This weeks ruling means that these ballots now may not be counted.
This legal challenge is one of a slew of challenges the Trump campaign intends to bring in Pennsylvania. On Friday, the campaign intends to challenge thousands of ballots already tallied in the state, on the basis that they were allegedly counted despite the fact that they were missing required information.
In addition, the Supreme Court has yet to issue a ruling on whether the three-day extension issued by the Pennsylvania Supreme Court for accepting mail-in ballots was valid or not.
It is evident to spectators all over the world that the unprecedented election circus in the "greatest" democracy on earth is far from over. It remains unclear to predict when the final election results will be known, partly caused by biased coverage from the mainstream media. By December 8 all state recounts and court contests over presidential election results must be completed.
Until that moment the election circus continues.
Arthur Blok is the Executive editor-in-chief of the Levant News.