Global Youth Ambassador Rakib Al Hasan from Bangladesh is eager to make the world post-Corona in 2021 a better place to live in. The young Author, Entrepreneur, and Youth Leader from Asia is determined in his quest to do so.
By the Levant News newsdesk
Rakib is not your ordinary young man from South Asian. There is youth and spirit in his life story. Besides that there is excitement, there is feeling, there is spirit, there is inspiration, there is also the joy of walking the path with others. A distinguished story of a young icon of world youth. A story that can be for everyone.
Medical science student Rakib Al Hasan has represented his country on international social platforms, including the Organization of Islamic Youth, the Global Youth Parliament, the Asian Youth Council, and many other international organizations.
He has been working on social issues like child welfare, youth entrepreneurship, and other such activities. In addition to flying the country's flag at both national and international conferences, he established himself in the society as an author and a young change-maker, inspiring young people to transform themselves into more advanced hemispheres.
From his childhood, Rakib dreamed of wearing a white medical apron and running from ward to ward to serve patients. With a small leap towards his goal, he was admitted to medical school and is currently studying in the final year of MBBS at one of the top medical colleges in the country Shaheed Suhrawardy Medical College.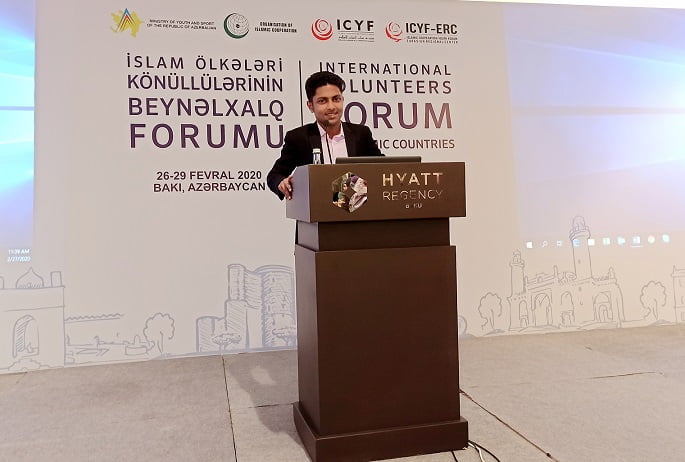 Novels
He started to pen since his very childhood. As a well-known prolific writer, Rakib excels in writing both in the field of prose and poetry. His novels mainly focus on theme of love, affection, separation, and lamentation.
Sometimes his pen voices against the odds in the society and sometimes it challenges the so-called politics through satire or columns in the newspapers. With all this, he has taken a very strong place in the mind of the readers, making out their feelings. So far he has seven books in his credit. Several books are in pipeline to be translated into multiple foreign languages.
For working on youth leadership, Rakib is now a familiar name both home and abroad. He is currently the Ambassador of the Global Youth Parliament, Global Peace Chain, Asian Youth Council, Access to Human Rights International, and European Youth Association. He is also the Bangladesh Country Coordinator for the Organization of Islamic Youth and the Asia Africa Youth Foundation.
In 2019 he won the Global Youth Leadership Award in the 'Influencer' category at the Global Youth Summit held in Nepal and represented Bangladesh at the 4th Africa Asia Youth Summit 2019 held in Beijing, China, and at the 2020 International Volunteer Forum held in Baku, Azerbaijan. He has also represented the country online at several international conferences on the corona epidemic, somewhere as a speaker, somewhere as a diplomat, and somewhere as a panelist.
These are some of his scattered stories in between the long journey ahead. These stories may have helped him represent his country on international platforms and enrich his records of achievement. But now let's come to a different story where there will have the struggles of Middle East people and these regions or some fragment story of the youth.
Recently, his online live show 'Let's Meet The Change-makers' has become popular among the youth. Many changemakers from home and abroad have taken part in this live show and shared the story of the turning point in their lives, which has inspired others. Representatives from various countries in the Middle East also happily participated in telling their stories of patriotism and their own stories to others, which is a unique example of international brotherhood.
As an international young diplomat, Rakib is concerned and talked on the US election, the center of everyone's interest, and its impact on Middle East along with various geopolitical issues. He is working globally so as to create opportunities for the youth of the Middle East countries to ensure the participation of more young people in international platforms.
His proposals, demands, and diplomacy are also playing a strong role in creating opportunities for young people from Middle Eastern countries to work more and more on international platforms. For all these reasons, Rakib Al Hasan is their favorite intellectual rock star.
A health movement map directed and led by Rakib Al Hasan is coming soon. In addition to his country Bangladesh and South Asia, the map focuses more on healthcare in the Middle East. It is expected that it will bring a change in the healthcare of these countries. Through this, there will have a health map during war-torn and war times. The movement will also be very effective in creating health protection and awareness for all, as these countries are extremely hot and have a large number of migrant workers.
'Man is for man, life is for life'- like these words of this song, people move forward by holding hands of one other and making bonds. Rakib Al Hasan will one day be global youngster other than Bangladesh's.