"I have come to say a word...but if death prevents my word the book of eternity will not leave a word unspoken. What I do today in my solitude will be echoed tomorrow by the multitude." - Kahlil Gibran
Not long ago, I was asked to verify the official number of translations of Kahlil Gibran's crowning jewel, The Prophet. This was not the first request of its kind. Still, it came at a good time, where the right partner (my fellow researcher Francesco Medici), tools, and information were aligned in such a way as to provide both the desire and motivation for this undertaking. What we found was no less than awe-inspiring.

By Glen Kalem
For years Gibran scholars have either grappled with conducting such an in-depth study or relied on un-scientific figures that Gibran enthusiasts published. As I've mentioned in previous articles, this discrepancy is likely also due to the lack of focused international research and study associated with the author himself. The earlier uncertainty surrounding his work can be traced back to his publisher, Alfred A. Knopf, who ironically once stated of Gibran's work: "It must be a cult, but I have never met any of its members. I haven't met five people who read Gibran" … I never understood him." The result is that over the last 95 years, since the publication of the Prophet in 1923, unofficial worldwide numbers of the translation have never been accurately recorded. Current estimates remain at around 40-60 translations [2], not nearly enough to make it onto existing lists of the most translated books of all time [3]
This is why a handful of researchers, including myself, have long lobbied for reliable fact-based studies that will finally give some concrete ground to the widely recognised claim today that Gibran is one of the "most read poets in history." And now, upon completion of our initial research, we are pleased to announce our discovery: Kahlil Gibran's The Prophet has been translated over 100 times, making it among the top ten most translated books in history!
How Did We Get Here?
To put the book and our research into perspective, let's peel back the remarkable publishing and translation numbers that existed before this study occurred. According to its publisher A. Knopf, The Prophet, first published in 1923, has been reprinted an astounding 188 consecutive times in its 95-year history, making it one of the longest-running of any published works with an estimated worldwide readership of 100 million. I says "estimated" because some countries, for example in parts of Southeast Asia, have not adhered to copyright laws and so readership there may be much more widespread than we think—in fact, these are just some of the regions where I have found that Gibran's readership is growing in large numbers and not showing any sign of slowing down (for example, China alone boasts at least 15 full and part translations of The Prophet).
As this timely study coincides with the end of the publisher's worldwide copyright privileges, we expect the numbers to keep climbing and wanted to have the current number officially on the record before that happens. After 95 years, publishers Alfred A. Knopf, now owned by Random House Penguin, will no longer have copyright authority over the original works in English by the end of 2018. This means we can expect to see many more iterations of The Prophet and related material around the world, beginning in January 2019--an exciting prospect indeed!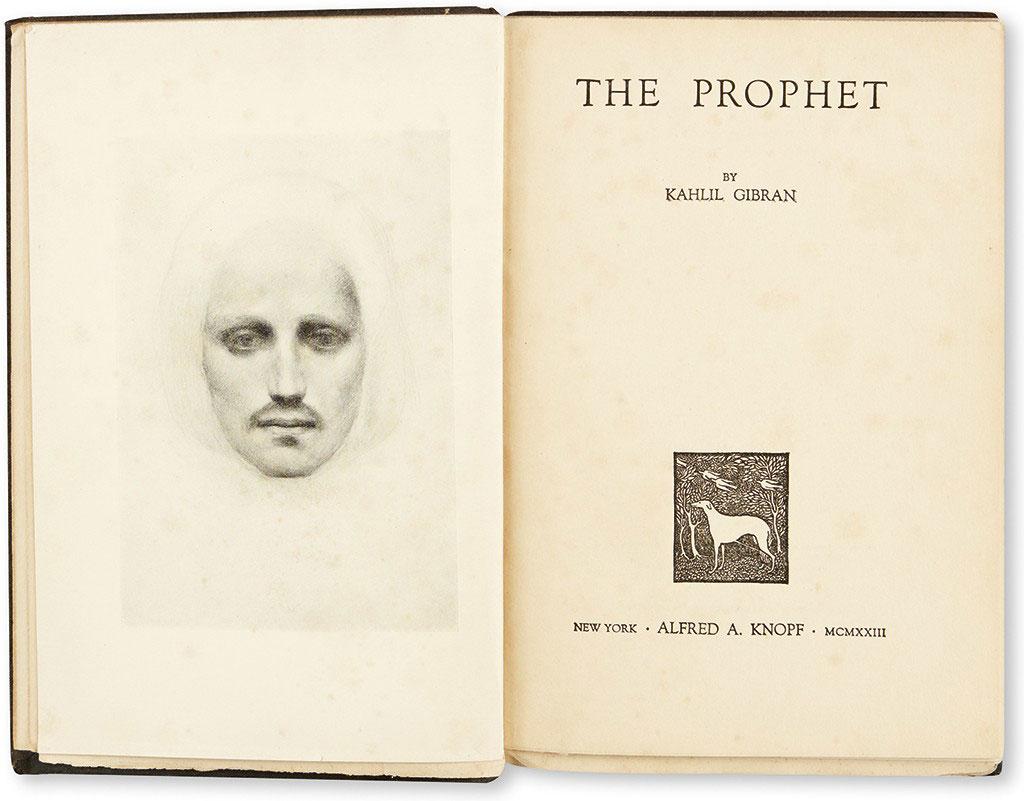 My colleague and fellow Gibran researcher Francesco Medici and I always knew Gibran's readership was more significant than estimated. So we began our search by tapping into online library archives and our international networks in search of the numbers. What we found far exceeded our expectations and surprised even those who thought they knew all there was to know about Gibran!
To our knowledge, no such comprehensive study has been conducted up until now, at least not by an academic or private institution. Furthermore, this study has not analysed each translation in greater detail, and the debate and discussion on the authenticity of each individual text is a whole different study in itself. We have simply tallied and collated to reach a base number of available texts from which we have a solid foundation to build upon.
All translations in this study were counted based on first editions only, and we have verified each listed work by citing at least the writer and publisher of the text. We did not, however, have the capacity to review the full contents of each work individually, nor test the accuracy of the poetic message and how that relates back to the virtue of the original. Furthermore, it is difficult to tell if the translators translated the work from the original English form or some other language. In summary, we solely focused on the existence and authenticity of the publication itself.
We began at The Kahlil Gibran Museum in Lebanon under the guidance of Mr. Joe Jaja, who sent us a list of 49 translations from the museum's private collection. Building on this official list, we verified each copy and quickly added a further four translations, therefore bringing the number to 53 translations, which was still within the publicly available range of 40-60.
Digging further into the research, Francesco and I would email our shared file back and forth in what became a daily ritual. "The List," as we came to call it, was growing rapidly; to see The Prophet translated into such obscure languages like Assamese (Indian dialect), Occitan (Provincial France), Uygur (Xinjiang Uygur Autonomous Region China) and even extinct ones such as Katova or Laghu (Santa Isabel Island -Solomon Islands) was so incredibly astonishing.
As we carried on our research, the questions that kept coming to our mind were, "how many more are there?! And what part of the world are they to be found??" When we broke the 70 translations milestone, we thought it was time to ring the bells of celebration, but the numbers just kept coming, and week after week we found ourselves adding two, three or even five new translations to the list!
"List update: 82! 86!" became typical email subject lines, and when we reached 90 confirmed translations we were both astonished; naturally, we wondered, could there be a 100? Or even more? Was it possible we could hit the magic milestone of three digits?
We continued edging closer and closer (like finding a braille copy) to the magic number but as we got within reach of our desired target of 100 we reached a lull. Both of us empty of research currency, and after a couple of weeks of no updates, it finally came--the email we'd hoped for, affirming what no one had thought possible: "102 translations!"
Astonished, amazed and just plain bewildered, we both knew we'd discovered something extraordinary; this would usher in a new frontier with regards to Gibran's chef-d'œuvre. The official total number of translations to date now sits at 104, a number no one could have guessed, not even the most ardent Gibran fan.
As the weeks went by and I contemplated this number, I began to wonder where this placed The Prophet in the rankings when it came to the most translated books. The answer? According to existing lists, The Prophet, with 104 translations, amazingly sits at number 10, just behind the book of Mormon. Even more astonishing is that when breaking down the list, The Prophet has yet achieved another milestone: the only book of prose-poetry to hold a top ten position.
Moving Forward
This discovery is only the beginning as we have only included first editions of each translation and therefore have reason to believe the overall number could exceed well over 200 translations; for example, we know of 13-15 editions that exist in China alone, another 15-20 in France, and so on.
In remembering how profoundly The Prophet influenced my own life and work, it is deeply touching to be able to share the full extent of Gibran's impact on different generations and cultures around the world. To think that a book which has had little to no promotional support in its 95-year history has reached such a level of readership is remarkable, especially when you measure it against other works with multi-million-dollar marketing campaigns.
Finally, as this study remains in progress while we expand past first editions, all updates and further announcements will be accessible at www.kahlilgibran.com
[1] Research and study by Glen Kalem and Francesco Medici
[2] https://www.bbc.com/news/magazine-17997163
[3] http://ingcointernational.com/the-20-most-translated-texts-in-history/
[4] A previous version of this article appeared in the Lebanese American University's publication, "Gibran in the 21st Century: Lebanon's Gift to the World."
THE LIST
The Prophet Translation
1st Editions
#
Language
/Dialect
Title
Publisher
Place of
Publication
Editor
Copyright
Date
Edition
Translator(s)
Cover
Type
Pages
Notes
1
Afrikaans
Die profeet
J.L. Van Schaik
Pretoria
1955
1st
Louis Fourie
104
2
Albanian
Profeti
Botimet Toena
Tirana
2003
1st
Maksim Rakipaj
71
3
Alsatian
De Prophet
Atelier de Promotion de l'Alsacien
Zinswiller (France)
Fouad Alzouheir
2013
1st
APECM
130
4
Amharic
YeTibeb Meniged (Nebiyu)
Commercial Publishing Enterprise
Addis Ababa (Ethiopia)
2011
1st
Demelash Tiulahun, Tesfahun Mitiku, Habitamu Tesfaye
192
5
Arabic (Egypt)
al-Nabī
al-Maṭbaʻah al-Raḥmānīyah bi-Miṣr
Cairo
Antūniyūs Bashīr
1926
1st
Antūniyūs Bashīr
120
6
Arabic (England)
al-Nabī
Elan Publications[?]
London
2016
1st
Jamīl al-ʿĀbid
115
7
Arabic (Lebanon)
al-Nabī
Mu'assasat Nawfal
Beirut
Mikhail Naimy
1956
1st
Mikhail Naimy
108
8
Armenian (Eastern)
Margarēn
Lebanese Embassy of Armenia
Yerevan
2008
1st
Hovik Yordekian
70
9
Armenian (Western)
Margarēn
Tparan Kat̕oġikosowt̕ean Hayoc̕ Meçi Tann Kilikioy
Antelias (Lebanon)
Vahe-Vahian (Sarkis Abdalian)
1983
1st
Vahe-Vahian (Sarkis Abdalian)
103
10
Assamese
Propheṭa
Natuna Asama
Guwahati (India)
1994
1st
Jyotiprasād Śaikīẏā
71
11
Azerbaijani
Peyğəmbər
Qanun
Baku
2014
1st
S. Bulut
104
12
Bahsa Aceh [Acehnese]
???
1st
13
Bangla
The Prophet
Ahmed Mahmudul Haque of Mowla Brothers
Dhaka, Bangladesh
2009
1st
Chowdury Mushtaq Ahmed
112
14
Basque
Profeta
Arantzazu
Arantzazu (Basque Country)
2008
1st
Patxi Ezkiaga
15
Bengali
Dya prapheṭa
Amr̥taloka Sāhitya Parishada
Midnapore, India
1993
1st
Ajita Miśra
84
16
Berber
Amusnaw
L'Harmattan
Paris
Youcef Allioui
2014
1st
Youcef Allioui
122
17
Bikol
An Profeta
Ina Nin Bikol Foundation
Naga City
Bernie Faustine D. Brijueg
2013
1st
Fr. Wilmer Joseph S. Tria
18
Bulgarian
Prorokŭt
Kibea
Sofia
1997
1st
Maya Tzenova
19
Cebuan
Ang Propeta
Sun Star Pub.
Cebu City (Philippines)
2009
1st
Jesus "Sonny" Garcia, Jr.
138
20
Croatian
Prorok
GZH
Zagreb
1985
1st
Marko Grcic
Paperback
21
Croatian
Prorok
GZH
Zagreb
1985
1st
Marko Grcic
Paperback
22
Czech
Prorok
Prota: Ludvík Souček [distributor]
Prague
1932
1st
Oldřich Hlaváč
23
Danish
Profeten
Lindhardt og Ringhof
Copenhagen
1987
1st
Per Thorrell
24
Dutch (Belgium)
De profeet
De Nederlandsche Boekhandel
Kapellen
1977
1st
Carolus Verhulst
120
25
Dutch (Netherlands)
De profeet
?
The Hague
1927
1st
Liesbeth Valckenier-Suringar
98
26
English (Braille)
The Prophet
Division for the Blind and Physically Handicapped
Washington, D.C. (USA)
1951
1st
27
Esperanto (artificial language)
La Profeto
Eldonejo Stafeto - Juan Régulo Pérez
[San Cristóbal de] La Laguna, Tenerife, Canary Islands (Spain)
Elías F. Shamon
1962
1st
Roan Orloff-Stone
127
28
Estonian
Prohvet
Huma
Tallinn
1997
1st
Doris Kareva
94
29
Faroese
Profeturin
Marna
Tórshavn, Faroe Islands (Denmark)
1986
1st
Hans J. Glerfoss
110
30
Filipino
Ang Propeta
Vertex
Manila
1975
1st
Felicidad Sagalongos-San Luis
31
Finnish
Profeetta
Karisto
Hämeenlinna
1968
1st
Annikki Setälä
32
French - Multilanguage (Andorra)
Le Prophète
AnimaViva Multilingüe
Andorra la Vella
2016
1st
?
33
French (Belgium)
Le Prophète
Edition universelle
Bruxelles
Marcel Lobet
1943
1st
Marcel Lobet
89
34
French (Canada)
Le prophète
Éditions de Mortagne
Boucherville [Québec]
1983
1st
Paul Kinnet
108
35
French (France)
Le Prophète
Éd. du Sagittaire
Paris
1926
1st
Madeline Mason-Manheim
125
36
French (Switzerland)
Le prophète
Idegraf
Switzerland
1985
1st
Michael La Chance
91
Cette édition hors commerce a été réservée aux souscripteurs
37
German (Austria)
Der Prophet
Buchgemeinschaft Donauland
Vienna
1987
1st
Karin Graf
128
38
German (Germany)
Der Prophet
Hyperion
Munich
1925
1st
Georg-Eduard Freiherr von Stietencron
39
German (Switzerland)
Der Prophet
Walter
Olten
1984
1st
Ursula Assaf-Nowak
72
40
Greek
O Profetes
C. Stavrakakis
Athens
1960
1st
Giannis Papadakis
109
41
Gujarati
Viday Velakhe
Navjivan Prakashan Mandir
Ahmedabad (Gujarat, India)
2013
1st
Kishore Mashruwala
105
42
Hebrew
ha-Navi
Hotsa'at Tamuz
Tel Aviv
1975
1st
Noʻah Zalud
83
43
Hindi
Paigambar
Hind Pocket Books
New Delhi
2009
1st
Nilima Singh
129
44
Hungarian
A próféta
Édesvíz
Budapest
1992
1st
Révbíró Tamás
Paperback
45
Icelandic
Spámaðurinn
Almenna bókafélagið
Reykjavík
1958
1st
Gunnar Dal
103
46
Indonesian
An Nabi
Pembangunan Opbouw
Jakarta
I. Annaury
1949
1st
Bahrum Rangkuti
Paperback
100
47
Isi Xhosa (Xhosa)
Umprofethi
Pooka
Plettenberg Bay (South Africa)
Z. Mtumane
2007
1st
Koliswa Moropa
133
48
Italian
Il profeta
Gino Carabba
Lanciano (Chieti)
Augusto Mancini
1936
1st
Eirene Niosi-Risos
123
49
Japanese
Purofeeto (Yogensha)
Goma Shobo
Tokyo
1972
1st
Kobayashi Kaoru
50
Kabyle
Nnbi
Laphomic
Algiers
1991
1st
Farid Abac
75
51
Kannada
Pravādi
Ānanda Granthamālā
Hubli, India
1953
1st
Dēsāyi Dattamūrti
99
52
Korean
Sŏnjija
Han'guk Kidokkyo Munhwawŏn
Seoul
1978
1st
Han Il-san
217
53
Kotava (artificial language)
Katcilik
Kotavaxak dem Suterot
?
2015
1st
Staren Fetcey
70
54
Kurdish
Peyamber
Helwest
Stockholm
2001
1st
Husein Muhammed
55
Latvian
Pravietis
Greenwood Printers
Toronto
1975
1st
Ingridas Vīksnas
89
56
Lithuanian
Pranašas
Asveja
Vilnius
1998
1st
Zigmas Ardickas
57
Lombard (Italian Dialect)
El Profeta
Menaresta
Monza
2015
1st
Marc Tamburell (Marco Tamburelli)
58
Macedonian
Prorokot
Kultura
Skopje
K. Fidanovski
1993
1st
G. Petreski
59
Malay
Sang Nabi
Pustaka Jaya
Jakarta
1981
1st
Iwan Nurdaya Djafar?
132
60
Malayalam
Pravācakan
Janatā Buksṭāl
Kochi (India)
1983
1st
Je. Akkanatt
102
61
Maltese
Il-profeta
Klabb Kotba Maltin
Sta Venera [Malta]
2008
1st
Victor Fenech
62
Marathi
da prophet (Paigambar)
Saket
Aurangabad, India
2009
1st
J. K. Jadhav
100
63
Nepali
Guru
Ṭrānsa Riprinṭa
Kathmandu
[2005-2009?]
1st
Netra Ācārya; Pushpa Ācārya
119
64
Northern Sotho
Moprofeta
Ad Donker
Johannesburg
1983
1st
Maje S Serudu
122
65
Norwegian
Profeten
Gyldendal
Oslo
1967
1st
Helge Hagerup
66
Norwegian (Bokmål)
Profeten
Gyldendal
Oslo
1967
1st
Helge Hagerup
67
Norwegian (Nynorsk)
Profeten
Kolofon
Oslo
2017
1st
Sondre Bratland
68
Occitan (Provençal dialect)
Alora una frema…
Publié dans Oc, No 51
France [?]
1999
1st
Joan-Glaudi Babois; Reinat Toscano
31
Extrait of "The prophet"
69
Papiamento
E Profeta
University Press of Maryland
Bethesda (Maryland, USA)
Suheil Bushrui
2013
1st
Hilda de Windt-Ayoubi
113
70
Pashto
Haghạh wuwel (He said)
Da Paṣhto Ṭolane da Kābul Mujille li'khwā
Kabul, Afghanistan
1957 (1336)
1st
ʻAzīz al-Raḥmān Sayfī
101
71
Persian
Payāmbar
Taban
Tehran
1962 (1341)
1st
Mostafa Alam
106
72
Polish
Prorok
Cedr i Orzel
Beirut
1954
1st
Wandy Dynowskiej
98
73
Portuguese (Brazil)
O Profeta
Biblioteca Universal Popular
Rio de Janeiro
1963
1st
Mansour Yousef Challita
116
74
Portuguese (Portugal)
O profeta
Editorial A.O.
Braga
1978
1st
Manuel Simões
75
Punjabi
Paighambar
Panjabi University
Patiala
1999
1st
Guninder Singh
76
Romani
A próféta / O platniko (in "Vesho műfordítások")
Budapesti Montessori Társaság
Budapest
2000
1st
Zoltán Vesho-Farkas
257
77
Romanian
Profetul
Orion
Bucarest
1991
1st
Radu Cârneci
78
Russian
Prorok
Raduga
Moscow
I. Zotikova
1989
1st
Igor Alekseyevich Zotikov
79
Serbian
Prorok
D. Andrić
Belgrade
1995
1st
Dragoslav Andric
117
80
Sesotho (Southern Sotho)
Moprofeta
Pooka
Plettenberg Bay (South Africa)
N.B. Sekere
2007
1st
Moruti W. Tšiu
81
Setswana (Tswana)
Moporofeti
Pooka
Plettenberg Bay (South Africa)
M.R. Malope
2007
1st
Phaladi M. Sebate
82
Sinhala
Divasiya
Godage
Colombo
2004
1st
Wimalasena Vithanapathirana
83
Slovak
Prorok
Tatran
Bratislava
1971
1st
Eduard V. Tvarozek
84
Slovenian
Prerok
Župnijski urad sv. Magdalene
Ljubljana [i. e.] Maribor [Slovenia]
1978
1st
Lojze Bratina
85
Spanish (Argentina)
El Profeta
L.J. Rosso
Buenos Aires
José E. Guraieb
1933
1st
José E. Guraieb
123
86
Spanish (Chile)
El profeta
Nascimento
Santiago, Chile
Moises Mussa B.
1932
1st
Moises Mussa B.
174
87
Spanish (Colombia)
El profeta
Editorial Tolima
Ibagué
195-?
1st
Antonio Chalita Sfair
135
88
Spanish (Mexico)
El Profeta
Imprenta Mundial
Mexico City
Leonardo Shafik Kaim
1934
1st
Leonardo Shafik Kaim
150
89
Spanish (Peru)
El profeta
Tall. Gráf. P.L. Villanueva
Lima
Max Silva Tuesta
1967
1st
Carlos Alberto Seguín
116
90
Spanish (Spain)
El profeta
Altés
Barcelona
1974
1st
Maria de Quadras
91
91
Spanish (Uruguay)
El profeta
Colicheuque
Montevideo
1990
1st
?
78
92
Swahili
Mtume
Tanzania Pub. House
Dar es Salaam, Tanzania
1971
1st
Joseph R. Kotta
58
93
Swedish
Profeten
Natur o. kultur
Stockholm
1933
1st
Olga Bergmann
101
94
Syriac (Iraq)
Enwīyā
Al-Mashriq Printing
Baghdad
1998
1st
Youarish Haido; Robin Bet Shmuel
96
95
Syriac (Sweden)
Nbíyā
Ashurbanibal Bok-förlag
Jönköping (Sweden)
2002
1st
ʻAbd Mšíḥā Naʻma'n Qarahbaš
88
96
Tagalog
Ang pantas
C & E Publishing
Quezon City, Philippines
2011
1st
Ruth Elynia Mabanglo
134
97
Tamil
Tīrkkatarici
Cantiyā Patippakam
Chennai (Madras, India)
2011
1st
Ca. Irācamāṇikkam
103
98
Telugu
Jeevana Geetha
Yuva Bharathi
Secunderabad (India)
1968
1st
Kaloji Naryana Rao
99
Thai
Pratchayā chīwit
Phiseux kar phimph
Bangkok
1968
1st
Ravi Vila Wilai
97
100
Tigrinya
The Prophet
Mesfin Gebremedhin
Peterborough, England?
2015
1st
Mesfin Gebremedhin
98
101
Turkish
Peygamber
Marmara Kitabevi
Istanbul
1945
1st
Orhan Ercem
70
102
Ukranian
Prorok
Zhurnal «Vsesvit», nr. 1
Kiev
1995
1st
Pavlo Nasada
88
103
Urdu
Paigham-bar
Ma'arifat
Pakistan?
1961 (1340)
1st
Salih Zada
104
Uyghur
Danishmăn: năsriy sheirlar
Qăshqăr Uighur Năshriyati
Kashgar, China
2001
1st
?
173
105
Vietnamese
Nhà tiên tri
Nxb Hội nhà văn
Vietnam?
Châu Diên
1994
1st
Châu Diên
162
106
Xitsonga (Tsonga)
Muprofeta
Pooka
Plettenberg Bay (South Africa)
P.H. Nkuna
2007
1st
Ximbani E. Mabaso
141
107
Yiddish
Der Novi
Yatshkovski's Biblyotek
Warsaw - New York
1929
1st
Isaac Horowitz
96
108
Zulu
Umpholofithi
Ad Donker
Johannesburg
1983
1st
DBZ Ntuli
122
International Book Covers of the Prophet - Photo: The Kahlil Gibran Collective
To learn more about 'The Artist, The Poet, The Man' please visit the homepage of the Kahlil Gibran Collective.